Estimated read time: 3-4 minutes
This archived news story is available only for your personal, non-commercial use. Information in the story may be outdated or superseded by additional information. Reading or replaying the story in its archived form does not constitute a republication of the story.
Debbie Dujanovic Reporting, Produced by Kelly JustStranded without warning, breakdowns, equipment failure. Do you know your car's hidden secrets? Old, new or looking to buy, our investigative team found the perfect tool that could help you avoid buying a lemon and keep you safe on the road. There's a big push to take it away.
In a matter of seconds I was able to discover that lots of drivers of a popular SUV complain the gas pedal sticks, the tire tread separates. I'm going to tell you how to get information about your own car and who doesn't want you to have it.
Driver; "Alternator went out on it, it burned up."
Driver: "The accelerator cable broke."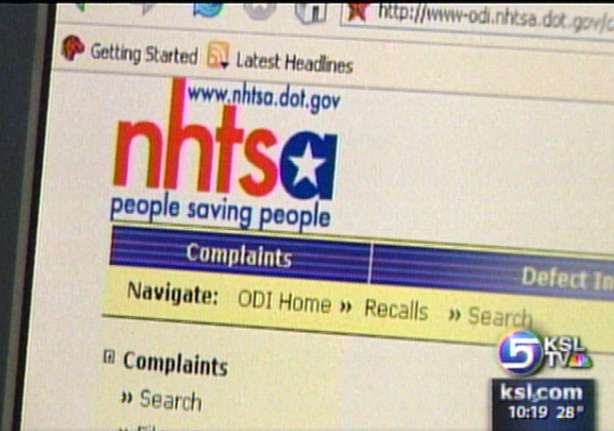 Breakdowns happen. Ever wonder if others are having the same problems on the road? So, is there any way to know about these problems before spending any money? Look no further than the website run by the National Highway Traffic and Safety Administration or NHTSA. You'll find millions of consumer complaints about thousands of vehicles, free of charge. All it takes is the year, make and model.
Take one of the most popular cars in America, the Toyota Camry. Dozens of drivers complain about serious speed control problems in the 2007 model. Cars that accelerate without warning, others that won't budge when the gas pedal is down.
We found 50 entries about airbags in the 1999 Ford F-150 truck. The bags either failed to deploy during a crash or went off on their own.
There are sob stories from 2002 Saab owners. Thirty-two drivers say their cars suddenly stalled in the middle of traffic at speeds of 35, 60, even 70 miles an hour. One, "narrowly avoiding a three-car collision."
Tim Stapleton, owner, GT Automotive: "If they see the same problem happening over and over it might raise some concerns."
Longtime mechanic Tim Stapleton owns GT Automotive in Riverton. He thinks the NHTSA Web site could help car owners find problems faster.
Tim Stapleton: "It saves us time, which ultimately saves the consumer money."
Save money yes, but more importantly save lives. Congress ordered the Early Warning website in 2002 to track vehicle safety and prevent deaths. Now NHTSA's trying to change the rules and take away those public complaints.
Tim Stapleton: "I can't see any reason why they'd want to shut it down."
Neither could we until we discovered who's behind the rule change. The auto industry. Every car company you can think of wants those online postings gone. They say your complaints expose "trade secrets" and hurt competition.
Consumer groups are protesting, accusing NHTSA, a federal agency set up to protect US, of trying to protect big business instead.
Mark Marine, Mark Marine Credit Systems: "If your trade secret can be found out by a guy in West Valley in his garage, it can't be too good of a trade secret."
Mark Marine's opinions aren't always popular among his colleagues. Mark Marine: "I'm the odd ball out, that's putting it politely."
Maybe because he's both a car dealer and a consumer advocate who sometimes goes after his own industry. He says no way should the government hide these safety complaints.
Mark Marine: "Information has never been a bad thing. I've never understood how information gets defined as bad. Let's get it out there."
If you want to check out the history of any car or you want to comment on NHTSA's proposed rule change visit the NHTSA web site.
Information you will need to fill out this form includes:
Docket ID Number: 26140
Agency: select "NHTSA"
Regulatory Docket: click on "Does Exist"
Title: enter "Confidential Business Information" Other ways to submit comments: Fax: (202)493-2251 Mail:

Docket Management Facility
U.S. Department of Transportation
400 7th Street, SW.
Nassif Building, Room PL-401
Washington, DC 20590

All submissions must include:

Agency Name: NHTSA
Docket Number: 26140

To submit comments about the proposed rule change, copy the following URL into your browser window: https://dms.dot.gov/submit/dspSubmission.cfm
×
Related links
Most recent Utah stories