Estimated read time: 2-3 minutes
This archived news story is available only for your personal, non-commercial use. Information in the story may be outdated or superseded by additional information. Reading or replaying the story in its archived form does not constitute a republication of the story.
*Whit Johnson Reporting*Photos by Jack Martin
About 20 cars, thousands of dollars in damage and one big explanation in the form of a snow plow. During our last big storm there was more than just snow flying. There was ice and heavy slush, too.
It was a typical winter morning in Salt Lake City, snow plows doing their part, but then, a major whoop-se-daisy.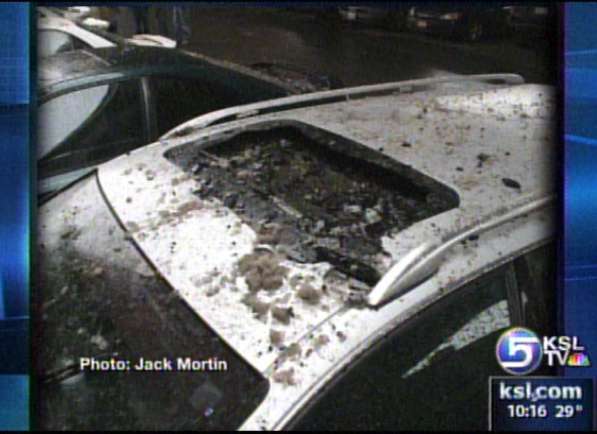 Nile Easton, UDOT spokesperson: "Just went too fast and actually pushed snow up and over the barrier."
It happened on the North Temple overpass between Third and Fifth West.
Jack Martin, took pictures of damage: "If the slush had hit a person, it would have killed him. It was that heavy."
A building window and about 20 cars in a parking lot below were clobbered with a big and dangerous mess.
Sandra Muharemovic, car was damaged: "I was shocked. I'm so glad I wasn't in the car."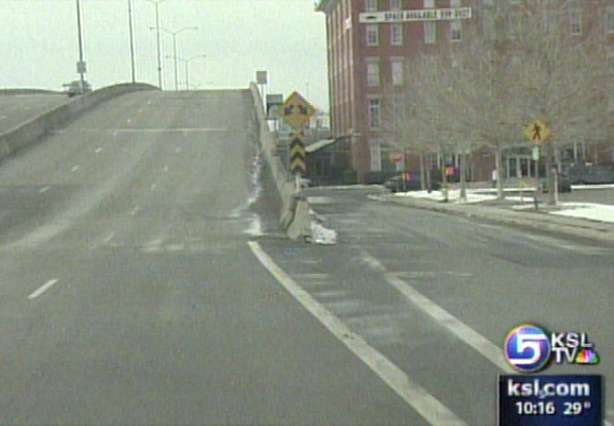 Sandra heard what happened and came outside. One by one she saw damaged cars covered with slush and ice, and then she found hers.
Sandra Muharemovic: "My sunroof is damaged, my windshield is very damaged."
Jack Martin, took pictures of damage: "I mean like hundreds of pounds of slush had like busted through the windshield."
The Department of Transportation is accepting full responsibility.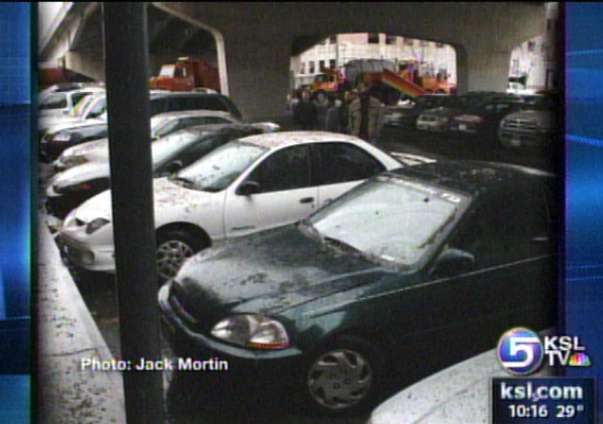 Nile Easton, UDOT spokesperson: "We just don't allow that to happen. Our guys go through training to prevent that from happening, and damaging 20 cars is completely unacceptable."
The man driving the snowplow resigned after the incident and told KSL he wasn't properly trained. But UDOT disputes the driver's claim, saying it's one of their most costly accidents in years. They plan to pay for all the damage.
Nile Easton, UDOT spokesperson: "This was definitely our mistake, and we're going to make good on it."
But still, for people like Sandra, the hassle is worth much more than reimbursement.
Sandra Muharemovic: "My husband, he fixed the car because the weather was so bad yesterday."
The Department of Transportation says the snowplow driver had only been working there for about four months. Most of their drivers have about six years experience. They say even if he hadn't resigned they would have let him go.
×
Most recent Utah stories