Estimated read time: 1-2 minutes
This archived news story is available only for your personal, non-commercial use. Information in the story may be outdated or superseded by additional information. Reading or replaying the story in its archived form does not constitute a republication of the story.
Sammy Linebaugh reportingA quick response from fire crews diverted a disaster.
Overnight, fire engulfed a motorhome. It was parked in the driveway, right next to a house at 3474 W. 5055 South in Taylorsville.
And the fire was spreading.
Capt. Steve Judkins/Unified Fire Authority: "We pulled up, the trailer was fully involved, and the shed right next to it was also involved."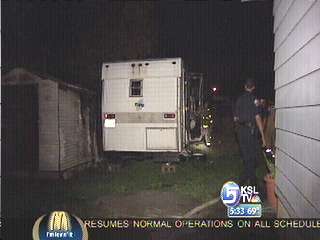 A tree nearby was also burning.
Initial reports said the owner of the house was trying to put the fire out himself. But when firefighters arrived, they quickly got the blaze under control, and avoided any injuries.
Capt. Steve Judkins/Unified Fire Authority: "Luckily there were no injuried to firefighters or civilians. When we first pulled up we had one attack team take a line in. They had it out in about one minute."
Though it looks bad on the outside, the shed wasn't too damaged on the inside. There were some tools inside, but that seems to be the only significant loss.
Officials don't know yet how much damage there was to the motor home.
It's parked in the driveway of a house, and authorities aren't sure if anyone was actually living inside the trailer.
Also, they also don't know yet what started the blaze. An investigation is underway.
×
Most recent Utah stories