Estimated read time: 6-7 minutes
This archived news story is available only for your personal, non-commercial use. Information in the story may be outdated or superseded by additional information. Reading or replaying the story in its archived form does not constitute a republication of the story.
NEVE DEKALIM, Gaza Strip (AP) -- Tearful Jewish settlers locked gates at their communities, formed human chains and burned tires to block troops from delivering eviction notices Monday as Israel began to pull out from the Gaza Strip after 38 years of occupation.
Police and soldiers waited patiently in the sweltering sun and avoided confrontations at the behest of their commanders. At one spot, a sobbing settler pleaded with a general not to evict him before the two men embraced.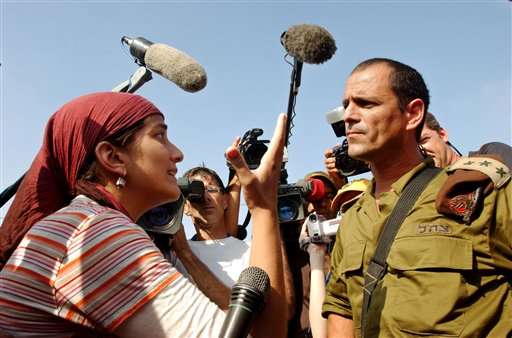 "It's a painful and difficult day, but it's a historic day," Defense Minister Shaul Mofaz said.
Over the next three weeks, Israel plans to dismantle all 21 Jewish settlements in Gaza and four in the northern West Bank. The withdrawal marks the first time Israel is giving up settlements on land claimed by the Palestinians for their future state.
While Prime Minister Ariel Sharon says the pullout will improve Israel's security, Jewish settlers fiercely opposed the plan and promised stiff, but nonviolent resistance.
But in a sign that at least some of the holdouts might leave by a Wednesday deadline, protesters permitted a convoy of moving trucks to enter the Neve Dekalim settlement Monday afternoon. Sharon planned a nationwide address Monday evening.
In Gaza City, Palestinian leader Mahmoud Abbas set Jan. 21 as the date for long-delayed legislative elections.
The order was meant to show that the Palestinians are on the road to establishing a democracy, said Saeb Erekat, a government spokesman. "Those who want to seek power need to do so through the ballot box, not bullets," he said.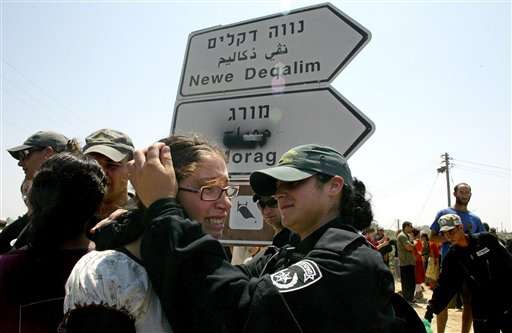 The elections were originally scheduled for July 17. Palestinian officials said the delay was for technical reasons, but the militant group Hamas accused Abbas of seeking time to shore up support for his embattled Fatah party. Hamas still plans to field candidates.
Hamas activists in Gaza City hung banners Monday proclaiming the pullout was a result of attacks by militants on Israelis. "The blood of martyrs has led to liberation," one banner said.
But the group said it had no plans to carry out attacks during Israel's withdrawal -- an act that Israel warned would bring a harsh retaliation.
"If the Israelis evacuate the Gaza Strip quietly, I think there is no single person among our people who will obstruct or violate this evacuation," said Hamas spokesman Sami Abu Zuhri.
Israeli troops fired in the air Monday to keep back hundreds of Palestinians, including a few dozen masked gunmen, who marched toward southern Gaza's Gush Katif group of settlements in celebration of the impending withdrawal. The crowd burned a cardboard model of an Israeli settlement, complete with an army watchtower.
With some 50,000 soldiers and police involved, the withdrawal was Israel's largest-ever noncombat military operation.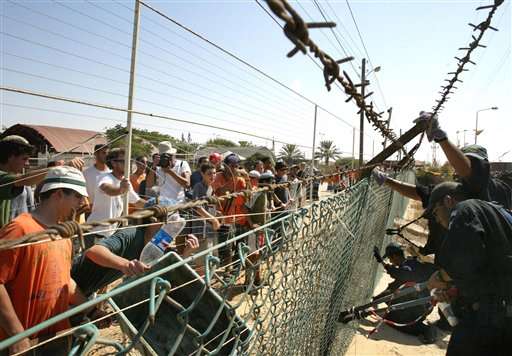 Israeli troops who fanned out across the Gaza Strip delivered eviction notices in six settlements, but met protests in others. The notices gave settlers until midnight Tuesday to leave. If they ignore the deadline, they will be removed by force and could lose up to a third of the compensation being offered by the government for giving up their homes.
Although many of Gaza's 8,500 settlers already left, the army estimated thousands remained, bolstered by some 5,000 hard-liners who came to help residents resist the pullout.
Settlers were defiant at Gush Katif. Hundreds blocked the gates of Neve Dekalim, Gaza's largest settlement, to prevent troops from entering.
Dozens of men, wearing white prayer shawls, held morning prayers at the gate, appealing for divine intervention to block the withdrawal. Youths wearing orange, the color of defiance, sat on the streets and yelled at soldiers. "You're a partner to a
crime," one screamed.
Troops moved into the community through a second entrance, only to be blocked by crowds who burned tires, formed human chains and scuffled with soldiers. When a small group of soldiers managed to enter, settlers took the eviction notices and burned them. One policeman was covered in green paint thrown by protesters.
Despite the standoff, there were signs that residents would leave before the deadline. After negotiations with police, protesters in Neve Dekalim allowed a large convoy of moving trucks to enter through the main gate, though young activists sporadically blocked the vehicles. Army officials said at least 200 settler families throughout Gaza had asked for assistance in moving their belongings.
"This morning, the people stood up to the police and it was a victory. Now the (shipping) containers are coming in. It is heartbreaking and negative," said Yosef Meron, 68, of Neve Dekalim.
Military commanders listened to the settlers' appeals, but said they would not be deterred.
Maj. Gen. Dan Harel, Israel's commander over the Gaza region, said the operation was going as anticipated. "Our estimation is that by tomorrow night most of the residents will agree to leave," he said.
Harel attempted to talk to residents of Neve Dekalim, but was whisked away by police after he was confronted by angry settlers.
At the isolated Morag settlement, hundreds of people blocked troops at the gate. One man, identified by Israeli media as Liron Zeidan, burst into tears as he pleaded with officers not to remove him from his home.
"I am not your enemy. I served as an officer under you," the man told Brig. Gen. Erez Zuckerman, commander of the army unit waiting at the gate.
Zuckerman listened and wiped sweat off his brow, then hugged the young man. "We love you, you are part of us," he told the assembled settlers.
Resistance was much more subdued in the settlements of Nissanit, Elei Sinai and Dugit, secular communities in northern Gaza that were virtually empty.
In Nissanit, four soldiers came to the home of Yitzhak and Avigail Dadon, a couple in their 70s who said they would leave before the deadline. Avigail Dadon cried, and a female soldier stood up to hug her.
Two residents entered an abandoned home, took out a hammer and smashed the mirrors, doors and windows. Some homes were covered in graffiti, including one that read "Sharon is a Nazi."
Soldiers also had eviction notices for four small West Bank settlements slated for evacuation. They chose not to enter two of the communities, Sanur and Homesh, where hard-line extremists were holed up. The army instead planned to hand the orders to community leaders.
Abbas issued a statement praising the pullout but said it must be followed by more.
"The Israeli withdrawal which starts today is a very important and historical step, but it is an initial step that should take place not only in Gaza, but in the West Bank and East Jerusalem," he said.
The Palestinians fear the withdrawal is a ploy by Sharon to get rid of areas he doesn't consider crucial to Israel while consolidating control of parts of the West Bank, where the vast majority of the 240,000 Jewish settlers live.
(Copyright 2005 by The Associated Press. All Rights Reserved.)
×
Most recent World stories