Estimated read time: 2-3 minutes
This archived news story is available only for your personal, non-commercial use. Information in the story may be outdated or superseded by additional information. Reading or replaying the story in its archived form does not constitute a republication of the story.
Ed Yeates Reporting If you've got Eagle Eyes, you can operate a computer by simply looking at it. That's what 20 teachers from six school districts throughout the state saw today in a special hands-on training program.
Compared to running you fingers across a keyboard, this new computer technology is a real eye-opener, literally. In fact, it's your eyes that control the mouse.
Teachers are learning how to use what is called the Eagle Eye, because this is the new technology that could bring the severely disabled back into the mainstream of education. Boston University, the Murray School District and the Opportunity Foundation have all come together to make this work.
With simple electrodes attached on the face, you can paint or do almost anything by simply shifting the eyes.
Debbie Inkley, Opportunities Foundation of America: "There are a lot of head trackers out there that use a Web cam to pick up head movement, and they've been around for a number of years now. But there's really nothing else out there that picks up the movement of the eye signal."
And for kids like Julian here, who is severely disabled, he can paint or play a game.
Debbie Inkley: "Almost all of our kids bring home pictures and put them on the fridge, right? People who are severely disabled can't do that. Eagle Eyes will allow them to print a picture with their eyes and put it on the fridge for mom or dad."
Once trained how to use the system even more, Julian eventually will be able to use the screen to communicate with visuals, even though he can't verbalize.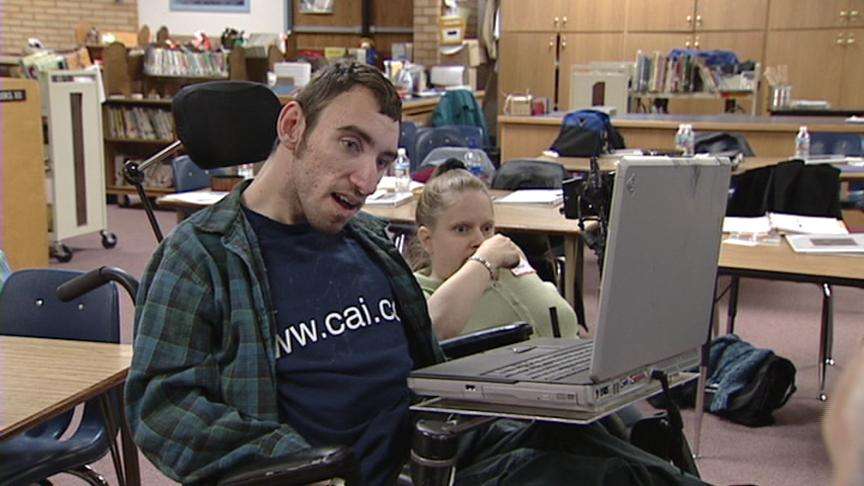 Nate, who's autistic, uses his eyes to play a game. So is 22-year-old Britt Allen. He's here as a volunteer trainer to help others learn how to use the system. Though he has limited use of his hands, he believes his eyes will eventually do it all.
Britt Allen: "But in the future, all of us will use our eyes to control everything. And it's not too far away."
This is just the beginning. The new eye tracker will eventually be available for the disabled statewide.
×
Most recent Utah stories