Estimated read time: 2-3 minutes
This archived news story is available only for your personal, non-commercial use. Information in the story may be outdated or superseded by additional information. Reading or replaying the story in its archived form does not constitute a republication of the story.
SALT LAKE CITY -- The Utah Department of Transportation and the Utah Highway Patrol released the 2009 traffic fatality numbers Tuesday afternoon.
The good news is road fatalities are at their lowest number since 1974.
The bad news: 245 people still died in crashes and accidents in Utah.
The total of 245 fatalities is 31 fewer deaths than in 2008, and even less than in 2007 when 299 people died.
Of all the fatality types, improper restraints -- such as not wearing a seat belt -- was the biggest factor.
In 2009, 96 people died this way, followed by 67 speed-related deaths, 30 motorcycle deaths and 29 DUI deaths.
---
On average, 20 percent of Utah's fatalities involve overcorrecting and half are rollovers. -UDOT
---
Surprisingly, the greatest numbers of deaths occurred during dry conditions: 196 people died on dry roads compared to 20 deaths on snowy roads and 17 during rainy or wet conditions.
Also, daytime had the most deaths: 127 in daylight conditions, 90 during the night and 15 at dusk or dawn.
The Utah Highway Patrol says the numbers just prove crashes can happen anytime, anywhere, in any conditions.
Maj. Mike Kuehn of the Utah Highway Patrol said, "I think, really, if we can concentrate on being more attentive drivers, it's one thing, and practice our skills and those kinds of things and just be a responsible driver we certainly help out with a lot of it. And buckle up of course, too."
The UHP also stressed not to drive while distracted.
Troopers focus on a preventable cause of fatalities
During a news conference on Tuesday, UDOT and the UHP focused on one of those factors they say could prevent a large number of highway deaths.
UDOT Executive Director John Njord said 45 percent of the fatal accidents involved vehicles that rolled after they drifted off the road and the driver overcorrected.
"We think if folks knew how to correct themselves rather than overcorrect, they'd be safer," Njord said.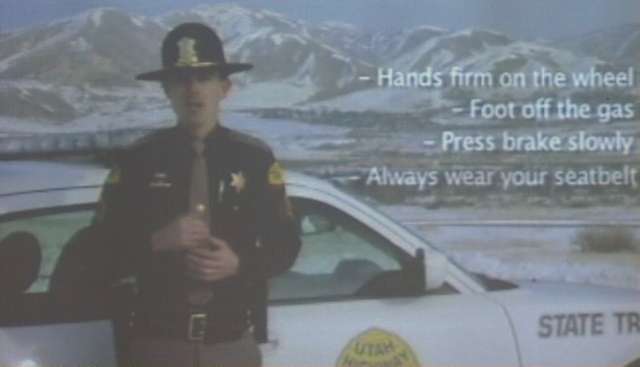 To demonstrate the point, troopers took reporters and photographers for a spin on the Department of Public Safety's Emergency Vehicle Operation's Range south of Camp Williams in Riverton.
Trooper and Emergency Vehicle Operations Instructor Chris Newlin said when they realize their car has drifted off the roadway, most people will jerk the wheel, causing the rear end to lose traction and slide, eventually causing a rollover.
Driving instructors advise instead that people keep the wheel steady, let off the gas, slowly apply the brake and slowly move back onto the roadway or stop on the shoulder. They also say steering to avoid a small rock on the shoulder or a delineator post is a dangerous practice.
"If everything's smooth and controlled, you'll be just fine," said Newlin.
------
Story compiled with contributions from [Alex Cabrero](< mailto:acabrero@ksl.com>) and [Marc Giauque](< mailto:mgiauque@ksl.com>).
×
Related links
Most recent Utah stories