Estimated read time: 2-3 minutes
This archived news story is available only for your personal, non-commercial use. Information in the story may be outdated or superseded by additional information. Reading or replaying the story in its archived form does not constitute a republication of the story.
OREM, Utah (AP) -- There won't be any Better Boys in the vegetable patch.
Homeowners in a 12-block section of Orem are being asked to keep their gardens fallow for as long as three years while authorities try to stop Japanese beetles.
The fear: The bugs could spread far and wide, threatening Utah's nursery industry and fruit trees.
"This is a once-in-a-lifetime opportunity to stop a pest that can change the way we garden in the future," state entomologist Ed Bianco said.
"This beetle will make it difficult to grow rose bushes, hibiscus plants, and many other popular plants, shrubs and trees in Utah," he said.
More than 600 beetles were collected last year in the targeted area in Utah County. The state plans to treat lawns, followed by trees, shrubs and plants.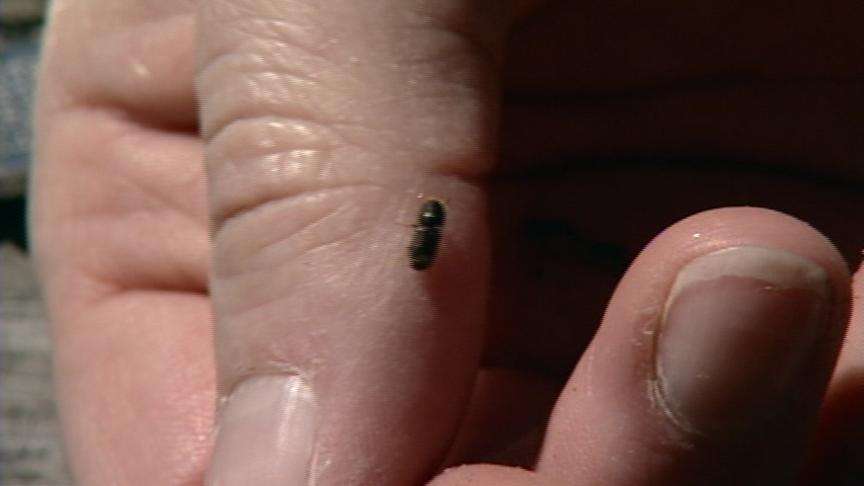 Japanese beetles, small bugs with a green tint and copper-colored wings, eat the tender part of leaves, leaving only a lace-like carcass behind.
"We want to treat the lawns so the insecticide goes down and gets the bugs in the larval stage," said Larry Lewis, spokesman for the Utah Department of Agriculture and Food.
"When they wake up and get hungry they're going to start chewing on roots of grass. Hopefully, they'll die before they get out of the ground," he said Wednesday.
Orem resident Meredith Seaver found the beetle last year. "I don't want to give up the fruits and the vegetables and the flowers that everybody loves," she said. "I'm willing to make that sacrifice for three years so I can go back to the way I like to garden."
Public meetings will be held March 15 at Geneva Elementary School, March 20 at Suncrest Elementary School and March 22 at Orem Elementary School. They start at 6:30 p.m.
------ On the Net: Beetle information, http://extension.usu.edu/files/publications/factsheet/ENT-100-06PR.pdf
------ Information from: The Salt Lake Tribune, http://www.sltrib.com
(Copyright 2007 by The Associated Press. All Rights Reserved.)
×
Related links
Most recent Utah stories