Estimated read time: 3-4 minutes
This archived news story is available only for your personal, non-commercial use. Information in the story may be outdated or superseded by additional information. Reading or replaying the story in its archived form does not constitute a republication of the story.
Sammy Linebaugh Reporting NFL pre-season kicked off this weekend. Of course, a lot of people are anxious to see former Ute Alex Smith's NFL debut, but there's another NFL-Utah connection, and Kevin Curtis already has his first touchdown of the '05 season.
This could be one of the best sports stories you've never heard. Kevin Curtis is a Bingham High grad. He is the middle of seven children, not the tallest, but the toughest. Just ask those who told him, 'hey, you're too small to play pro football.'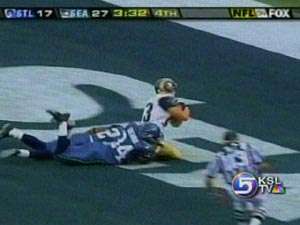 He made the big play more than once in last year's playoffs.
Kevin Curtis, St. Louis Rams: "It was a great feeling, as a kid watching playoff games, to actually be in one, to play in one."
Five foot 11 and lightning fast, Utah's Kevin Curtis has scored himself a staring role with the St. Louis Rams.
Mary Jean Curtis, Kevin's Mother: "He would play his own game on the trampoline by himself. He'd pass the ball and he'd run over and catch it, and then he'd dive for it."
At home in South Jordan this summer, Kevin played catch in the same backyard where his football dreams began, even if nobody else believed.
He had the drive, but not the size, coaches told him. Out of Bingham High School nobody recruited him. He walked on at Snow College.
Stuart Curtis, Dad: "In my mind I felt bad for him because it seemed like such a hopeless challenge."
Kevin Curtis: "I knew I had my work cut out for me, but I didn't think there was any reason to say, 'I can't do it.'"
Kevin made a name for himself at Snow with his speed. Schools from Kentucky to BYU started showing interest. Kevin had a decision to make.
Kevin Curtis: "When I made the decision to go on a mission, I didn't expect anything when I got home."
After a two year LDS mission to London Kevin Curtis wasn't on anybody's radar. He says one coach suggested he try campus flag football. Eventually, Utah State gave him a shot.
Kevin Curtis: "The quarterback Jose Rentes, he knew my sister,and that whole first year I red-shirted up there my sister would tell him I was on the team. He thought she was lying. He had no idea who I was."
Then Jose Fuentes met Kevin Curtis. By season's end #3 had shattered a national receiving record, averaging nine catches a game.
Kevin Curtis: "My dream was more just to play division one football. I don't know if I had the sights of the NFL."
But NFL scouts had their sights on him. By 2003 the former walk-on was a third round NFL draft pick. Now he's settling in to the role of sports star.
Kevin Curtis: "I'm doing something I love and sometimes I guess you could say I pinch myself." Just how fast are we talking? Kevin's best 40 yard dash time is 4.27 seconds, very fast. And, by the way, Kevin got a near perfect score on the NFL's intelligence test, the "Wonderlick" test; it's one of the highest scores in league history. Are you impressed yet?
×
Most recent Utah stories