Estimated read time: 3-4 minutes
This archived news story is available only for your personal, non-commercial use. Information in the story may be outdated or superseded by additional information. Reading or replaying the story in its archived form does not constitute a republication of the story.
SOUTH SALT LAKE -- An apartment fire in South Salt Lake Monday afternoon left one child dead and two families displaced. The fire burned so hot and fast a 10-year-old boy couldn't get out in time.
Now, two families are trying to piece together their lives. They've lost their homes, their belongings; and one mother lost her son.
Jackson Avery was only 10 but already popular in the apartment complex.
"Oh, he was a great kid. He was always playing with everybody else in the neighborhood because he was just a friendly kid," neighbor Ivy Earl said.
Jackson's mother, Tanya Avery, and 18-year-old brother, Steven Avery, got out safely.
The fire at the Royal Garden Apartments started around 12:30 p.m. South Salt Lake firefighters think it accidentally ignited on the first floor, near a fake Christmas tree in the living room.
"I heard a bunch of screaming, and I ran out to see if the kids were OK because they're always out playing," said neighbor Armanda Andrus. "Right as I came out, I saw the mom come out saying, 'My baby!' So I call 911 and say, 'We've had a 5-year-old trapped, and there's no way for anybody to get in the apartment. I've got kids jumping from the second-story floor.'"
The flames quickly ripped through the bottom apartment and traveled upstairs. That's where Natalia Christiansen's children were.
"They said they smelled smoke, checked the kitchen; everything was off. They looked out the window and saw that the fire was already on the stairs," Christiansen said.
She was at work when her youngest daughter jumped off the staircase over the fire. Her other daughter and her friend were hesitant to do the same.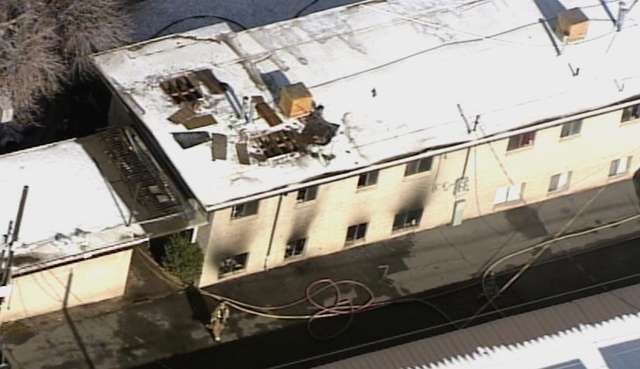 "When they looked back out the fire was too big, so they jumped out of the bedroom window and called 911 and me, at work," Christiansen said.
Once crews started extinguishing the fire, smoke prevented them from making immediate entry. South Salt Lake Fire Chief Steve Foote said crews did everything they could but were unable to save Jackson Avery, who died of smoke inhalation.
"It's a very somber occasion for everyone involved," Foote said. "We don't like these kinds of incidents happening. Obviously, the family is very upset."
Now the Red Cross is helping both families. The Christiansens are staying in a vacant apartment in the same complex; the Averys are at a different residence, talking to a mental health specialist.
"In a case like this, with the trauma and grief, they need somebody to talk to," said Trisha Holmes, with the American Red Cross of Utah.
Especially when firefighters say they found Jackson so close to the exit.
"He was about 6 feet way from the door; so yeah, he was trying," Foote said.
The chief estimates the fire caused nearly $250,000 worth of damage. Investigators still don't know the exact cause and, because everything's so charred, they might never know.
------
Story compiled with contributions from Nicole Gonzales and John Daley.
×
Photos
Most recent Utah stories