Estimated read time: 3-4 minutes
This archived news story is available only for your personal, non-commercial use. Information in the story may be outdated or superseded by additional information. Reading or replaying the story in its archived form does not constitute a republication of the story.
Carole Mikita Reporting Forgiveness was the first thing Christopher Williams offered the driver who killed his wife and two of his children in an accident February 9 in Sugarhouse. Williams knows from experience how that young man feels because he had a similar experience as a teenager.
Christopher Williams and I met at his church office; he is a Latter-day Saint bishop. He told me one of the most valuable lessons he has learned in life is that if you seek forgiveness for yourself, there will come a time when you will also have to give it.
Christopher Williams: "It's been an amazing experience since the accident. It's almost like immediate revelation started to flow from the second I came to in the car."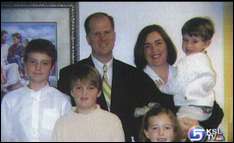 Christopher Williams says he knew that his pregnant wife, Michelle, his daughter Anna, nine, and son, Ben, 11, were dead. He saw the other car, whose driver had caused the accident, on its roof and decided to forgive.
Years ago he was in that young man's shoes. In 1985, Williams was 16 and driving in the Avenues. Two boys ran between parked cars. He hit them, and one of them died.
Christopher Williams: "The pain that came, the terrible agony and grief of knowing that there's somebody else who was involved in this accident, it was just...it was very, very terrible to go through. I didn't understand why, I didn't feel to question really too much why, but it's something I wanted to know. I wanted to know, why me? Why did that happen?"
The family of that little boy moved away soon after, but because of his recent accident and loss, a door has opened.
Christopher Williams: "They wanna meet me. I look forward in the next few weeks for an opportunity to really kind of throw our arms around one other and, you know, feel that forgiveness."
Bishop Williams has already met with the young man who caused his accident and his family.
Christopher Williams: "They're people that I love, that love me, and they love my family. The things that connect us through eternity, this is one of those things. That family and my family, we're now connected."
He says he's never told this story before, but after his accident at age 16, his parents took him to Heber. He was motorbiking without a helmet, crashed and had a near-death experience.
Christopher Williams: "The peace I felt through that entire experience took away any fear of death, anything that could happen after this life or to me in this life."
It has helped him come through this latest tragedy.
Christopher Williams: "Just that proclamation that all is well, it really is; all is well."
Six-year-old Sam Williams, his father says, has had a miraculous recovery. He suffered a brain injury, broken rib and collar bone in that accident. He returned to school today. 14-year-old Michael, who was not in the car, is doing well, surrounded, his dad says, by great friends.
There is a detention hearing for the teenage driver in the Williams' family case tomorrow afternoon.
×
Related links
Most recent Utah stories