Estimated read time: 2-3 minutes
This archived news story is available only for your personal, non-commercial use. Information in the story may be outdated or superseded by additional information. Reading or replaying the story in its archived form does not constitute a republication of the story.
Jed Boal Reporting Early tax returns are in and many of us are missing out on a one-time refund. Utah filers alone have left nearly two million dollars in Uncle Sam's pocket.
If you have not done your income taxes yet, this will be a helpful tip. If you have, there's a one in three chance you missed out on a $30 to $60 refund.
Seven weeks until the last-minute tax-filing frenzy. No need to panic, but one in three filers this year miss out on a one-time telephone tax refund nationwide. If you pay for long-distance phone service you're entitled to this refund. The IRS even reminds us to cash in.
Bill Brunson, Internal Revenue Service: "They can either take a standard amount based on the number of exemptions on their return, 30 to 60 dollars, or they can claim the actual out-of-pocket expense which could be $100 or more if you made a lot of long-distance calls."
Many people got rid of their land-lines in favor of a cell phone, or even an internet phone package. Regardless, if you paid that federal telephone excise tax, you're entitled to the refund.
The government no longer collects the tax and we get a refund on those taxes paid from March 2003 through July 2006.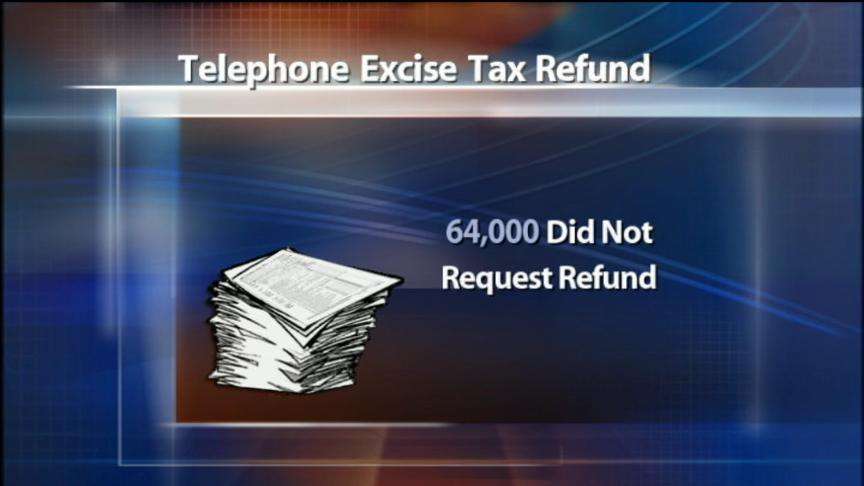 In Utah, during a three-week period, nearly 200,000 federal tax returns were filed. More than 130,000 returns requested the Telephone Excise Tax Refund, but more than 64,000 did not--one third of all filings.
The estimated amount of refunds Utah taxpayers passed up? A total of $1.9 million.
Bill Brunson: "We feel that they're eligible, so we're confused as to why they're not."
Of those returns which did not request the refund, half were completed by a tax preparer. Others try to cheat on the refund.
S. Ted Elder, IRS Criminal Investigation: "We have seen tax preparers across the country who have been fraudulent in trying to obtain exorbitant refunds using this telephone excise refund tax."
Don't trust a preparer who promises a big refund based on this tax. If you did your taxes and you missed it, you can file an amended return. The IRS website will answer any questions. Click the link at the right.
×
Related links
Most recent Utah stories