Estimated read time: 4-5 minutes
This archived news story is available only for your personal, non-commercial use. Information in the story may be outdated or superseded by additional information. Reading or replaying the story in its archived form does not constitute a republication of the story.
KSL Team CoverageAnother round of snow hits Northern Utah. The storm pounded Logan this morning, before moving into the Salt Lake and Utah County areas.
Weather slowed the morning commute and made driving treacherous in some areas, such as Parley's Canyon. The storm caused dozens of accidents and slide-offs from Davis County to Utah County.
I-80 eastbound was shut down at the mouth of Parleys Canyon after two semis jackknifed and because of multiple slide-offs. The Canyon has been cleared, and traffic is moving there now.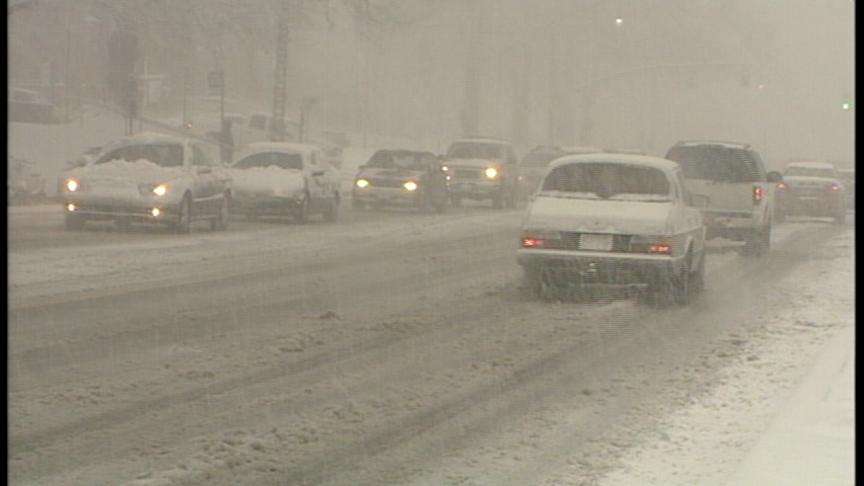 At 1300 East and 100 South a man hit a pole causing power to go out in that area. In the Avenues, cars were sliding down B Street, near South Temple. People were dealing with the heavy, wet snow, and it was causing problems on roads all over the valley.
By 11:30 this morning there had been 55 accidents reported in Salt Lake County and roughly 18 accidents reported so far in Davis County. The average wait for a tow truck was three hours.
Traffic at the Point of the Mountain came to a stop this morning and people all over found themselves stuck in the snow, right on the highway.
Rob Olsen, Driver: "it's ugly, very ugly. I wouldn't recommend anybody be out there."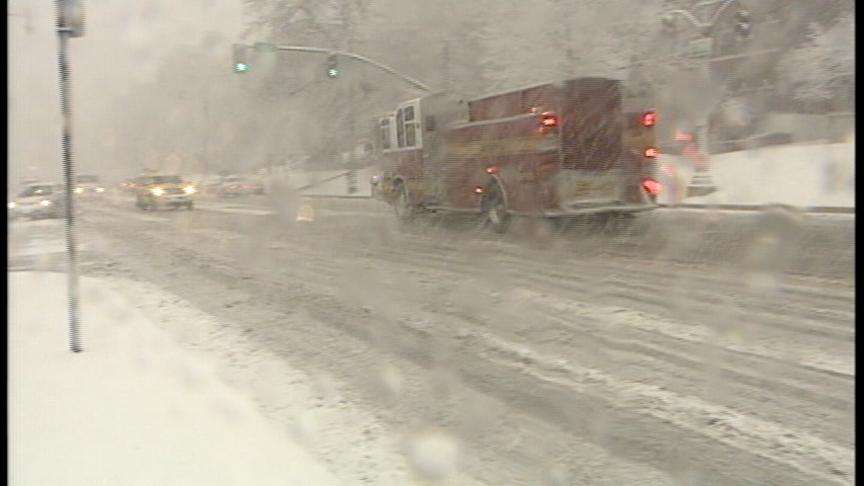 Drivers traveling at the northern end of Utah County, found themselves in the middle of a white out blizzard around eleven this morning. Snow was falling horizontally, so bad that visibility was almost down to nothing because of fierce winds blowing the snow.
Dayna Clark, Utah County Driver: "It just got really bad, all of the sudden I just couldn't see what was in front of me and so I just had to pull over. So yeah, it's really bad out."
And the roads were snowpacked almost instantly, even though the snowplows were already out.
Drivers who only have rear wheel drive suddenly found themselves stranded, because they couldn't get any traction to go up an even small incline.
Big rigs climbing the Point of the Mountain got stuck too, forcing the Utah Highway Patrol to completely shut down the freeway for about an hour. When the roads were clear again, it still took another hour for the gridlock on northbound traffic to finally clear, so drivers could be on their way.
More snow will only add to the high avalanche danger in Utah. The Deseret Morning News reports avalanche danger is high and could remain high for weeks or even months to come. These sporadic storms are creating some very unstable conditions. The surface of the snow is powdery and doesn't pack together well. When more snow falls, what's underneath is not a stable base. It just breaks apart and can cause serious avalanches.
The Utah Avalanche Control Center is warning people to be extremely careful in the backcountry. If you can, avoid it all together.
Not even a week ago, we told you about a Norwegian skier who lost his life in the backcountry when he ventured out and a slide buried him.
With the high winds and snow expected this week, we could start to see large, long-running avalanches. Experts are saying don't be lured by that fresh powder.
The University of Utah is closed today. All classes have been canceled due to the snow.
The storm caused a rough day for travelers, not just on the roads, but at the Salt Lake International Airport as well. A few dozen delays affected hundreds of people.
Right now the storm has cleared up quite a bit, at least compared to this morning. But a ripple effect caused numerous delays. For some people it was only an hour. For others it was more than a day.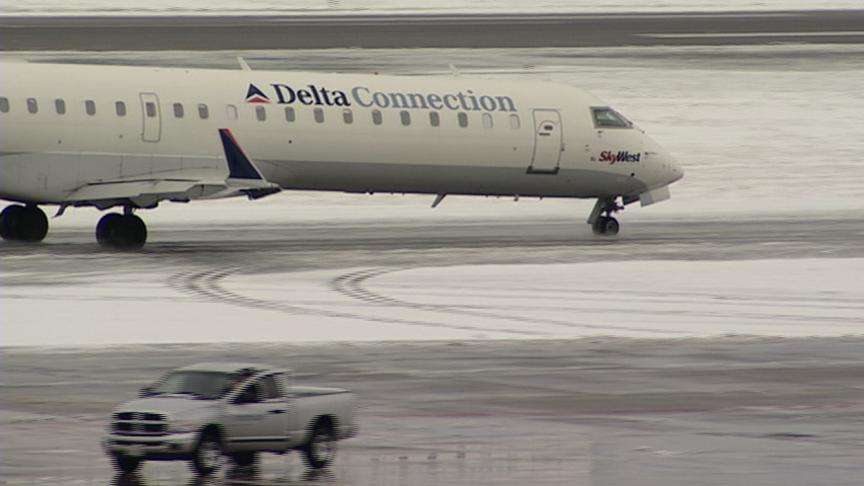 It was bad weather, delays and confusion at Salt Lake International.
Wesley Clayson, flight was delayed: "It got delayed two hours. It didn't even leave Los Angeles because it couldn't land because of the snow."
Barbara Shaw, picking up son: "His plane should have been here at 10:10 but now they're saying 11:54."
Crews worked to clear the runway and de-ice the planes.
Wesley Clayson: "And so they put me on a different flight. They transferred me to a Delta/Skywest flight that goes straight from here to Missoula that leaves in two hours."
Dozens of flights were pushed back at least an hour, with some longer and others canceled. Geoff Penske and his family can't go home until tomorrow.
Geoff Penske, can't fly until tomorrow: "So that's been a little frustrating. You return the car you check all the luggage. You wait around and then all for nothing. Now we got to load everything back up."
Officials with Salt Lake International report flights began getting back on schedule in the early afternoon, but that was too little too late for some people.
Wesley Clayson: "I'm new at traveling. This is like my third time ever on a plane my first time going by myself so it made me kind of nervous."
Barbara Shaw: Question: 'So is it tough hanging on a couple of more hours waiting for him?' "You bet. I'd wait forever for him."
After waiting in lines, delays and cancellations, for some it wasn't all bad news.
Geoff Penske: "Have another night here in Utah. Maybe get a little skiing in this afternoon with some fresh powder."
×
Photos
Related links
Most recent Utah stories