Estimated read time: 2-3 minutes
This archived news story is available only for your personal, non-commercial use. Information in the story may be outdated or superseded by additional information. Reading or replaying the story in its archived form does not constitute a republication of the story.
SALT LAKE COUNTY -- In the last two months of 2009, 15 Utah Highway Patrol troopers were hit while helping other motorists on the roads. The troopers want drivers to slow down and pay attention.
There is a state law that aims to protect state troopers at the side of the road: Motorists are supposed to slow down and move over one lane when we see first responders on the side of the road. When drivers do not, troopers often get hurt.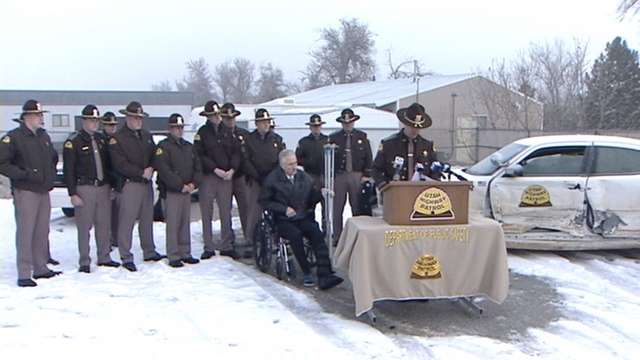 On December 23, 2003, a car slid out of control on Interstate 15 near 600 South and hit Trooper Rich Fordham.
"It hit me, pinned me between my car and another vehicle," Fordham recalls.
He is one of dozens of troopers over the years who suddenly became a crash victim while helping a motorist in need.
"I went to my trunk to retrieve some flares, and the next thing I know it went completely black," Fordham said.
His leg was crushed and nearly amputated. Fordham speaks for his colleagues when he asks all drivers to slow down, move over and pay attention.
"You always have to keep it in the back of your mind that that potential danger is out there," Fordham said. "But your focus isn't on that. Your focus is on the situation, or the reason you responded to the scene."
When approaching a scene with emergency responders:
• Slow down immediately

• Move over as much as you can

• Look for warning signs and hazards ahead of you

• Focus on your driving and nothing else

Last year alone, careless drivers hit 19 troopers on the job; 15 of those crashes happened in the last two months. Eight Utah Highway Patrol cruisers totaled. Trooper Taylor Vanhouten was hit last month responding to a crash on Main Street in Layton during a snow storm.

"The impact was enough to put us both into the dash," Vanhouten said. "The radios are in the trunk and were not working because of the collision. I couldn't call for help. I didn't have access to my cell phone because it was thrown from the vehicle."

All of the troopers gathered at a press conference on the issue survived their crashes. In the past, other emergency responders have been killed.

"Folks just need to slow down and be aware that we're there for them, and it's hard to do our job when things like that compound our situation," Vanhouten said.

------

Story compiled with contributions from Jed Boal, Shara Park and Mary Richards.

×
Photos
Most recent Utah stories