Estimated read time: 3-4 minutes
This archived news story is available only for your personal, non-commercial use. Information in the story may be outdated or superseded by additional information. Reading or replaying the story in its archived form does not constitute a republication of the story.
KSL Team Coverage A fast-moving fire in a South Salt Lake apartment complex forced two mothers to take desperate measures. With no other way out, they dropped their children out of windows.
The three-alarm fire broke out at the Mountain Shadows apartments near 3900 South and 700 West around 8:30 this morning.
Fire investigators say a 4-year-old boy was playing with matches, lit a pillow on fire, and threw it on another balcony where there was a small Hibachi-style barbecue that is fueled by propane. The fire caused the barbecue to explode. South Salt Lake Fire Chief Steve Foote says the barbecue shouldn't have been there, saying it's against fire code to have a propane-fueled barbecue on a patio in apartment buildings.
Flames tore through the building, forcing people to get out any way they could, even if that meant jumping out a window.
The fire spread quickly and literally chased people from the building. As firefighters pulled up to the scene, residents could be seen jumping from and hanging out the windows. Several people saw the smoke and tried to help.
Two women in the third floor apartments were trapped inside.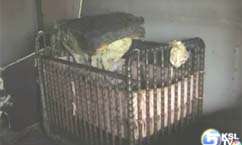 Kaitlyn Leasy's 8-month-old daughter was sleeping in a crib. Kaitlyn rushed in and grabbed her when she saw smoke and flames.
Anthony Leasy, Kaitlyn's husband: "Kaitlyn ran in here and she said there were flames all along the wall and up and down the side of the crib."
It was too hot to go out the front door, so Kaitlyn ran into her bedroom. Blinded by smoke, Kaitlyn made a decision that saved her baby's life.
Scotty Silveria, caught baby: "She's like, 'What do I do?,' and I was like, 'Just drop the baby,' and she was like, 'Are you sure?,' and I said, 'Yeah, drop the baby--drop her, drop her, drop her,' and she dropped her, and I caught her. "
The woman then tried to climb out the window using an extension cord, but it snapped and she fell.
Anthony Leasy, Kaitlyn's husband: "They tied an extension cord around Kaitlyn to lower her out of the window, but I guess it snapped, and she fell two stories and hit the railing and fell off and hit the air conditioners."
Anthony Leasy says his wife was ready to die in that fire, just as long as her baby made it out alive.
Anthony Leasy: "She's one of the bravest women I've ever met."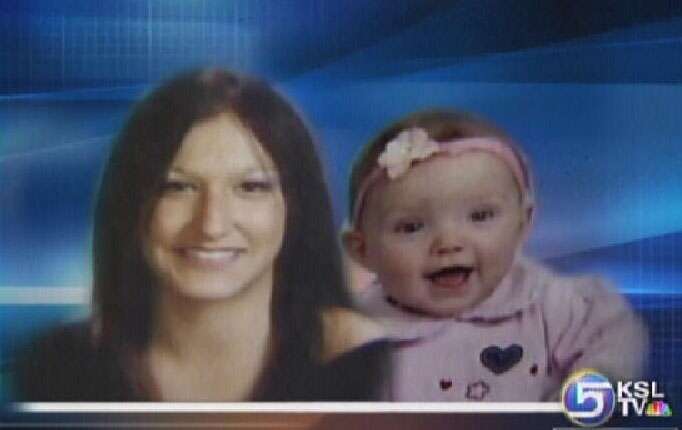 Kaitlyn and Anthony's daughter, Gracie, is OK. Kaitlyn is expected to be in the hospital for the next couple of days with some broken ribs and a fractured spleen. Three other victims have been released from the hospital.
Another woman tossed her two children and dog out the window. Witnesses used blankets to catch a 4-year-old boy. Her 2-year-old son, though, hit the ground. By then, firefighters arrived and rescued the mother.
The fire chief said that this was a complicated scene because these are older apartments. There were no sprinklers inside; it wasn't up to code. To add to that, the fire hydrant they tried to tap into originally was dry. Twelve units were affected, and when firefighters arrived on the scene, they had their hands full.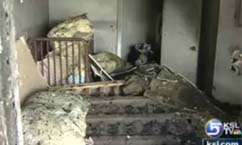 Steve Foot, Salt Lake fire chief: "Through the whole situation we had people jumping out of the building, heavy smoke, heavy fire. We were trying to do a rapid evacuation…"
A dozen people are homeless and staying with relatives, in hotels or in vacant apartments.
Amazingly no one was seriously injured or killed during this fire.
Damage is now estimated at well above a quarter-million dollars.
Fire investigators told us they don't plan to pursue criminal charges. But this does raise a safety issues. South Salt Lake's fire captain told us propane grills on the balconies of apartments violate city fire code. They encourage residents of apartment buildings to remove them, for just the reason we saw today.
×
Photos
Most recent Utah stories