Estimated read time: 3-4 minutes
This archived news story is available only for your personal, non-commercial use. Information in the story may be outdated or superseded by additional information. Reading or replaying the story in its archived form does not constitute a republication of the story.
Dick Nourse Reporting Utahns know Andrew Valdez as a juvenile court judge and a community activist. Judge Valdez has written this memoir about a man he calls his guardian angel in this book called "No One Makes it Alone."
Andrew Valdez has played tennis here for nearly 50 years as man and boy, lawyer, street kid and now as a judge. Tennis has been a ticket up and out for Andrew Valdez. All because somebody who cared put a tennis racket in his hands and believed in him.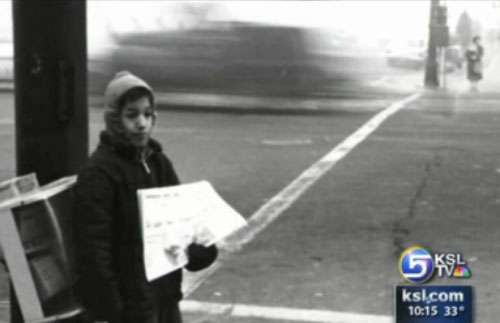 As a kid, Andy Valdez sold newspapers. In 1960, there were still 'paper boys' in downtown Salt Lake City. Eight-year-old Andy 'owned' this corner, on Main Street and 2nd South.
Dick Nourse: "And how much money would you make?"
Judge Andrew Valdez: "I'd make three cents on every newspaper, and we'd sell papers for three and a half hours and walk home with 90 cents."
Jack Keller passed by Andy every day on his way to his print shop.
Judge Andrew Valdez: "I kind of confronted him, 'How come you never buy a paper from me?' because he was always passing me and he had this paper in his arm...
Dick Nourse: "And you were a little mouthy, a pretty smart kid..."
Judge Andrew Valdez: "Well...I guess I was (laughing) ...a little. Yeah. Let's say I was assertive. And he took me to his shop half-way down the street and gave me a job."
Dick Nourse: "And got you off the street selling papers ...and then took you in to help him in the print shop..."
Judge Andrew Valdez: "I mean I spent a lot of time in the print shop. I'd eat there and sometimes I'd even sleep there at night when I needed a place to go."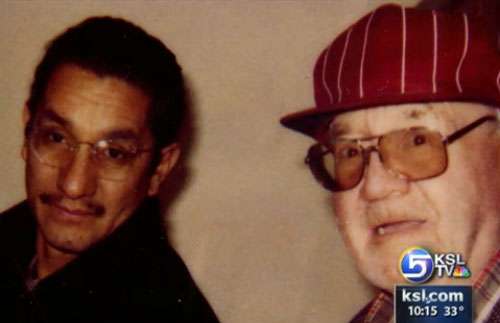 Jack Keller was not a rich man, but he was a man of heart and mind.
Most of all, he believed in Andy Valdez, and he believed that Andy's ticket was tennis.
Judge Andrew Valdez: "I didn't even know what tennis WAS! I asked him, 'What's THAT?' and he said, 'It's a sport with racket and balls.' And I say, 'Why?' And he said, 'I know how to play, and I won a racket at Lagoon, and I'll teach you.'"
Andrew Valdez graduated from the University of Utah Law School, was a lawyer in the Army JAG Corps, a husband and father, a public defender and a now a judge.
As the years passed, Andy lost track of his old and best friend.
Dick Nourse: "And you'd tried to find him?"
Judge Andrew Valdez: "I tried, I'd tried finding him, for about six years. I went to his old house. I'd assumed he'd passed away. And I'd even check the death records, trying to get some information on him..."
Then one day, Judge Valdez went to a grocery store and spotted an old man. A cop was about to arrest him.
Judge Andrew Valdez: "I walked up to him and he was pretty beat up, his face had scabbing...and our eyes locked, actually locked, and I said, 'Jack? Is that you? Jack Keller, is that you?' And he kind of looked at me real blankly."
Dick Nourse: "Was he in the early stages of Alzheimer's?"
Judge Andrew Valdez: "Yes. He had onset Alzheimer's. And so the police officer and the store manager...they allowed me to take him. And so from there I took him and cleaned him up."
Dick Nourse: "It was your turn to take care of Jack."
Judge Andrew Valdez: "It was my turn to take care of him,for the last years of his life. I finally put him in a rest home, and he stayed in the rest home for four years, and that's where he passed away."
Now, Andy Valdez remembers the best times when Jack would take him to lunch at the Jade Cafe.
They'd sit quietly, reading the newspaper, and eating egg foo yong sandwiches.
Judge Andrew Valdez: "We gave each other the feeling that we mattered to SOMEBODY ...and we were needed by each other in some respects."
×
Most recent Utah stories