Estimated read time: 4-5 minutes
This archived news story is available only for your personal, non-commercial use. Information in the story may be outdated or superseded by additional information. Reading or replaying the story in its archived form does not constitute a republication of the story.
SALT LAKE CITY -- Northern Utah currently boasts the worst air in the nation, and it's not even a close margin.
Sunday, Salt Lake City's air quality index was 142 compared to San Francisco's 67 and Las Vegas' 23.
Monday, the federal government's air quality website forecast the five worst places for air quality and they were all in Utah: Logan, Ogden, Provo, Salt Lake City and the Washakie Indian Reservation near the Utah-Idaho border.
"It's exceeding our federal standards of particulate pollution, and so it's not good at all," Utah Department of Environmental Quality spokeswoman Donna Spangler told KSL Newsradio Monday.
How bad is an air quality index of 142? Spangler said the air is considered "deteriorating" when it has an index higher than 35.
A storm is predicted to hit the Wasatch Front Wednesday. CLICK HERE for the KSL forecast.
"If it's not very strong and it doesn't have much of a punch, then it might lessen a little bit -- but if we don't have a really good storm it will just continue to build," Spangler said.
Inversions can't be prevented, pollution can
Utah's current inversion is unhealthy, but Utah Division of Air Quality Planning Manager Bryce Bird said we still haven't hit the very unhealthy level. At that point everyone would be advised to limit time outside.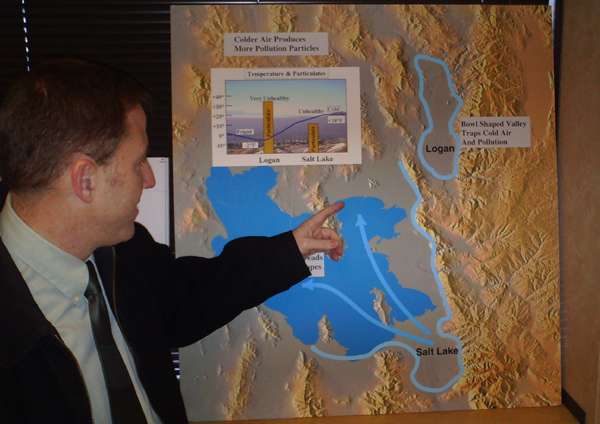 Bird said the inversions themselves are naturally occurring and we can't stop them. He says even early trappers that came to Utah wrote about fog being trapped in the valleys. However Bird says it's not the inversions that are unhealthy, it's the pollution that gets trapped inside the stagnant air.

"The largest pollutant sources are in the Salt Lake City and county area. So we see the pollutants build there fastest. Then as the inversion period lasts, we're kind of seeing it spreading out throughout the basin," said Bird.

He said 50 percent of bad air particles come from vehicles.

"It's not that each car is high polluting because over time cars have become much cleaner. The issue is the million or more cars that are driving around during the inversion, period," said Bird.

That's why the division of air quality continues to ask people to tune up their vehicles and cut back on driving when the cold air gets trapped.

Inversion means indoor recess

When the air is this bad, many school district officials make the decision to keep students indoors for the day.

Martha Kupferschmidt, principal of Horizon Elementary School in the Murray district, said it happens a handful of times a year.

"The kids get a little squirrelly by the end of the day when they haven't been outside. It is not necessarily the best day in that respect," she explained.

She said teachers don't get a break either. They stay with students during the time that they would have been playing outside.

"The teachers give them free time for the most part," she said. "Sometimes there are organized class activities. Other times students have their choice of what activities to do."

Kupferschmidt said it may be hard, but the schools definitely want to protect students' health. It's a constant concern for Jennifer Kranz, principal of Parkside Elementary School in Murray. She keeps records of kids' health problems and inhalers for those who need them and sees a spike in absence when bad air hits.

**Health effects of particulate matter:**

![](http://media.bonnint.net/slc/1699/169975/16997557.jpg)• People with existing heart or lung diseases -- such as asthma, chronic obstructive pulmonary disease, congestive heart disease, or ischemic heart disease -- are at increased risk of premature death or admission to hospitals or emergency rooms. • PM can increase susceptibility to respiratory infections and can aggravate existing respiratory diseases, such as asthma and chronic bronchitis, causing more use of medication and more doctor visits. • *-Utah Department of Environmental Quality*

"I'm up at over 10 percent of our population being absent, and a good many of those are because of respiratory problems," said Kranz. When asked if she thinks there's a clear link with the bad air, she says, "Absolutely."

"It's kind of hard to breathe," said Max Matthews, a sixth-grader at Parkside. Max, who suffers from asthma, can't go out for recess on the bad air days.

Unhealthy air is expected to persist into Wednesday for the Wasatch Front, according to the Utah Division of Air Quality, which keeps the filters that track particles in the air.

"What shows up on the filter is exactly what you're breathing," said Bo Call, manager of the Air Monitoring Center. "It's dirt," he says, examining the filters. "You look at how dirty they are and it's like, 'That's not good.'"

At Parkside Elementary, they hope for a break soon. This year already, the principal says she's had four asthmatic students wind up in the hospital.

"It's something that impacts my students' ability to progress academically and my teachers' ability to teach," she says.

------

Story compiled with information from Andrew Adams, Randall Jeppesen, Mary Richards, and John Daley.

×
Related links
Related stories
Most recent Utah stories