Estimated read time: 1-2 minutes
This archived news story is available only for your personal, non-commercial use. Information in the story may be outdated or superseded by additional information. Reading or replaying the story in its archived form does not constitute a republication of the story.
Shelley Osterloh ReportingBuyers from nearly three thousand stores are in Salt Lake to check out the latest outdoor products. The Outdoor Retail Summer Market kicked off today on the water and shores of Willard Bay.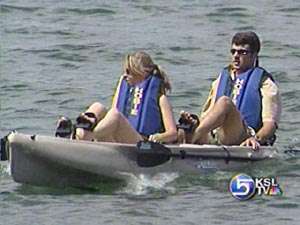 When it comes to checking out paddle boats, it's tougher without water, so vendors did more than display their latest products, they let buyers climb right in and paddle out.
Marc Vernon, Buyer for California's Sierra South: "Being able to come to a venue like this and get into the boats and feel what they are like on the water, instead of trying to second guess by looking at the boat and specs is a great way to do it."
So whats new? There are paddle boats for nearly every interest, from sport to fishing. Even some paddle boats that don't need paddles, some from Hobie Cat have pedals. Boats are getting lighter and easier to transport and store. One boat we found folds in half and fits into a bag and in the car trunk.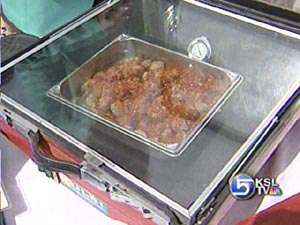 Still want to cook that pot roast and sweet rolls when you go camping? Maybe you should get a solar powered oven. It heats ups to 350 degrees; and when you are done, you close it up and take it home.
Other interesting products for water lovers -- a small kit of water resistant musical instruments, and drums you can play, and play with.
Robert Shen, Remo: "Just try to make a little music and have fun at the same time."
The Outdoor Retailer summer Market continues at the Salt Palace through Sunday, but it is closed to the public.
×
Most recent Utah stories