Estimated read time: 1-2 minutes
This archived news story is available only for your personal, non-commercial use. Information in the story may be outdated or superseded by additional information. Reading or replaying the story in its archived form does not constitute a republication of the story.
ALPINE -- An Alpine family woke up to find a large, furry visitor in their yard Friday.
Kristen Kendell said her dog was the first to notice the visitor.
"Our dog was barking really loud at the back door. [We thought there must be a cat out there," Kendall said.
When she looked out the kitchen window, she was surprised to find a moose looking back at her.
The animal wandered around the yard eating shrubs and didn't look like it was going to leave anytime soon. Kendell decided to call 911 for help since there is a school across the street and kids would be in the area soon.
As kids and other neighbors started to gather, she invited them into her house to watch.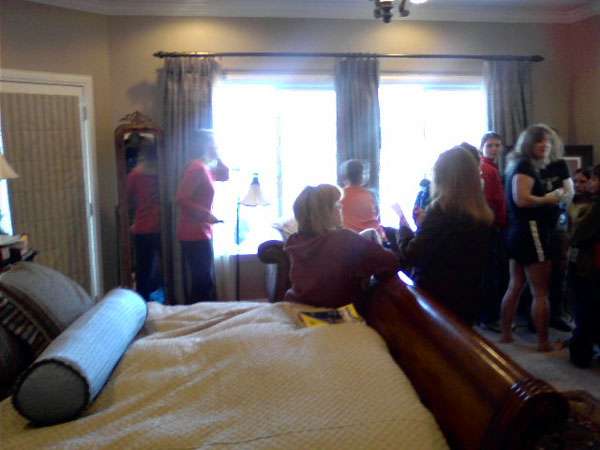 "There were about 20 people inside the house watching," Kendall said.
Officers with the Division of Wildlife Resources showed up with a tranquilizer gun about an hour later.
"[The moose] was still lying down, and they shot him with the tranquilizer gun. From where we were watching, out the bedroom window, we were like five feet away," Kendell said.
The moose was then loaded onto a horse trailer and hauled off.
"Everyone stayed safe, and he's on his way now to somewhere more quite," Kendell said.
But not before receiving a name from those who had gathered to watch the scene unfold. They called him Fredrick.
The DWR said the moose had been in the Alpine area near the base of the mountains for about a week. Officers had unsuccessfully tried to scare it back up into the mountains.
The moose was taken to Diamond Fork Canyon and released.
------
Story compiled with contributions from Randall Jeppesen and Sarah Dallof.
×
Photos