Estimated read time: 2-3 minutes
This archived news story is available only for your personal, non-commercial use. Information in the story may be outdated or superseded by additional information. Reading or replaying the story in its archived form does not constitute a republication of the story.
Whit Johnson Reporting Dozens of people are making their voices heard over a controversial bill regarding radioactive waste.
Ryan Keller, protester: "This isn't McDonald's we're regulating here. This is toxic waste."
Utah's history with the effects of nuclear testing has almost made the word "nuclear" itself taboo. Today a surge of protesters urged Governor Huntsman to veto Senate Bill 155.
The bill passed easily through the state legislature. Opponents say it's an issue of public safety, and radioactive waste should be taken very seriously.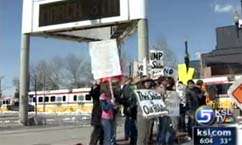 EnergySolutions, the company involved, says people are misinformed. Either way, Governor Huntsman has a tough decision ahead.
The signs are built with passion and anger. History in Utah has created a loss of trust.
Katy Savage, protester: "My grandparents died from cancer because they were downwinders."
The issue of nuclear waste is back in the public eye.
Ashley Sanders, protester: "It seems like there's an enormous disconnect between what the legislators are representing, which is supposed to be the people, and the people themselves."
Today protesters gathered outside EnergySolutions Arena and the Governor's Mansion, furious over the legislative passing of Senate Bill 155.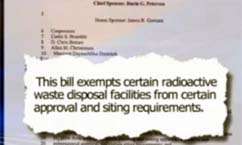 The bill's general description says it exempts certain radioactive waste disposal facilities from certain approval and siting requirements.
Greg Hopkins, senior vice president of EnergySolutions: "The legislation has been confusing to a lot of people."
EnergySolutions, which has a nuclear cleanup facility in Tooele County, says the bill simply clarifies the regulatory path they've followed for years and would not remove government oversight.
Greg Hopkins, senior vice president of EnergySolutions: "Our CEO was in fact a downwinder, and his father was a downwinder and he died of cancer. He's a Southern Utah guy. He's very sensitive to these issues. It's one of the reasons he's in this business."
The ramifications of nuclear testing still hit close to home for many Utahns, and it was their fight that helped stop a bunker-busting bomb test in the Nevada desert.
Ryan Keller, protester: "People massed together can do a lot. We can change things."
The change these protesters want is a veto from the governor to at least postpone the bill from becoming a law and stimulate discussion.
Governor Huntsman met with some of the protesters today and listened to their concerns. He has until next week to make a decision on the bill.
×
Most recent Utah stories