Estimated read time: 2-3 minutes
This archived news story is available only for your personal, non-commercial use. Information in the story may be outdated or superseded by additional information. Reading or replaying the story in its archived form does not constitute a republication of the story.
KINGSTON, Tenn. (AP) -- An inmate considered to be "extremely violent" escaped Tuesday after his wife gunned down and killed a guard who was escorting the shackled prisoner outside a courthouse, authorities said.
The bloody escape set off an extensive search for George and Jennifer Hyatte. Helicopters circled over this eastern Tennessee town and schools -- open for student registration -- were locked down.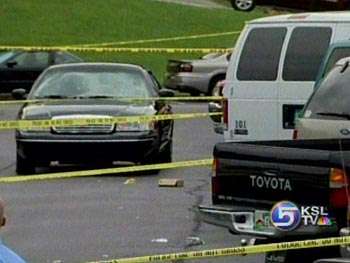 The Ford Explorer in which the couple fled was later found abandoned with blood on the driver's side, and officers think the wife may have been wounded during the attack, Police Chief Jim Washam said. Authorities believe the pair later switched from the SUV to a van.
George Hyatte, serving a 35-year sentence on robbery and assault convictions, "is extremely violent, and he has no care or concern on what he does to anyone," said Sheriff's Department spokesman Jeff Knight.
Jennifer Hyatte is a nurse who had been fired from her job at a prison in Tiptonville because of her relationship with George Hyatte, Corrections Department spokeswoman Amanda Sluss said.
Washam said authorities were preparing murder charges against the couple.
"We do have leads coming in on possible whereabouts, possibly some family members that may be hiding them out. We're trying our best to coordinate those," Washam said. "Right now, we can't say if they had any help."
The escape occurred as corrections officers were loading Hyatte and other inmates into a prison van outside the Roane County Courthouse. A woman drove up in the Ford Explorer and fired several shots from a handgun, Washam said.
"Mr. Hyatte hollered 'Shoot him!' She opened up fire on the officers, hitting one in the abdomen," Washam said.
Witness C. G. Gray said he and his wife were about 50 feet from the prisoners when they heard shots. He said corrections officer Wayne "Cotton" Morgan, who was not wearing a protective vest, never got his gun out of his holster.
Morgan, 56, a career corrections officer, died at the University of Tennessee Medical Center in Knoxville, about 30 miles east, hospital spokeswoman Lisa McNeal said.
"The other officer did a get a shot off, apparently striking one of the individuals," Washam said.
Hyatte, 34, was serving two consecutive 15-year sentences for robbery convictions and a five-year sentence on top of that for assault, state prison officials said. Several years ago he escaped from local authorities and was a fugitive for about a day after a holdup at a drive-in market.
Hyatte was two years into the 35-year sentence at the Brushy Mountain Correctional Complex. He was at the courthouse to plead guilty in a deal with prosecutors over an armed robbery charge, Washam said. Hyatte was handcuffed, wore a waist chain and was shackled at the feet, Sluss said.
(Copyright 2005 by The Associated Press. All Rights Reserved.)
×
Most recent News stories