Estimated read time: 3-4 minutes
This archived news story is available only for your personal, non-commercial use. Information in the story may be outdated or superseded by additional information. Reading or replaying the story in its archived form does not constitute a republication of the story.
SALT LAKE CITY -- Certain residents of Salt Lake County will soon have to pay for police protection, depending on where they live. It's a new fee for businesses and residents that brought lot of opposition at a public meeting Wednesday night.
During the meeting, department representatives explained the Unified Police Department is struggling financially because of the economy. Not as many people are buying, therefore their biggest moneymaker, sales taxes, are way down.
"People just weren't purchasing and paying a sales tax," said Salt Lake County Councilman Jim Bradley. "But we still need to provide that service."
---
The Unified Police District will serve 250,000 residents with 339 officers on an annual operating budget of $45.3 million. -Salt Lake County
---
The department chose a fee because it says most of property taxes go to school districts, so raising them wouldn't have helped much. This way, officials say they can charge a resident or business based on how likely they are to call the police for help.
But for business and apartment complex owners, the fees are pretty steep.
"This new tax, as I call it, is going to cost our company $74,592 a year," one citizen said in Wednesday night's public input meeting.
In addition to the fee based on the type of business, they are charged additionally for the number of employees. Kennecott is facing the heftiest annual fee, at $1.3 million.
"We don't object to the concept of a fee. We object to the process that took place to establish it," said Jana Kettering, spokeswoman for Kennecott and its parent company, Rio Tinto.
But even residents -- like Clive London, who is retired and on a fixed income -- say the extra fees are putting their tight budgets over the edge.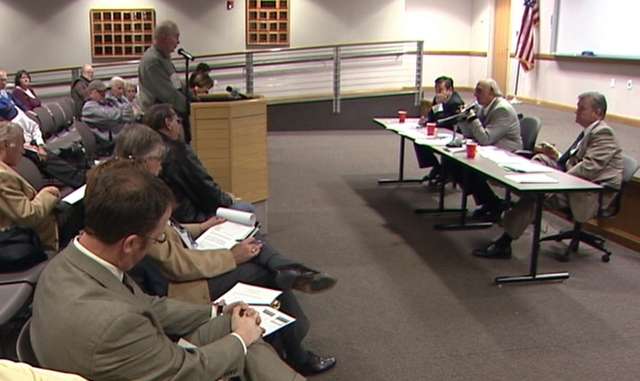 "My savings earn a little interest, and that's way, way, way down," London said. "Then they're throwing an additional fee on us. It makes it real tough to try and make ends meet."
Even with the protests, UPD and the county council insist this was the only way to avoid either higher taxes, or layoffs for the department.
"We looked at calls, who uses the law enforcement services, who are those businesses out there in our community who use the services more than others," Bradley explained.
Fees for residences range from $14.50 a month to $19.50. Churches pay $73; bars and taverns $75. Grocery stores will pay nearly $2,000 a month, on the theory they call the cops a lot more often. [CLICK HERE to see the commercial fee structure for the UPD]
The fees apply in unincorporated parts of Salt Lake County, but not the four contract cities -- Herriman, Riverton, Bluffdale and Holladay -- UPD serves. Kennecott, at about $100,000 a month -- something the company is not happy about.
"We don't create a burden on law enforcement. We have our own security. We have a secure perimeter. We have some of our own fire, our own EMS, and we are not a high utilizer of county law enforcement services," Kettering said.
Assuming there's no hitch in the plan, the bills should start going out at the end of this month.
------
Story compiled with contributions from Jennifer Stagg and John Hollenhorst.
×
Related links
Related stories
Most recent Utah stories