Estimated read time: 2-3 minutes
This archived news story is available only for your personal, non-commercial use. Information in the story may be outdated or superseded by additional information. Reading or replaying the story in its archived form does not constitute a republication of the story.
Ed Yeates ReportingUtah Power is concerned about people who are jury-rigging meters to steal electricity. The utility says incidents are occurring all too frequently. It plans to beef up investigations to see just how big the problem really is.
Utah Power meter readers are sometimes surprised at what they're finding attached to the walls of homes these days. Meters designed to keep track of how much electricity is being used have been tampered with, removed, or bypassed.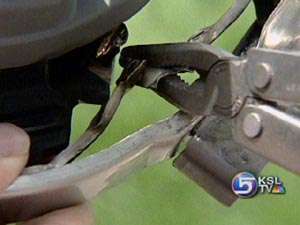 Jeff Hymas, Utah Power: "You might think this would be just a low income situation where people are stealing electricity because they can't afford it. But we see people across the spectrum. We see people in very wealthy homes who want to try and see if they can do this without getting caught."
In case there's any doubt, Utah Power says there's a reason for the security latch; there's a reason for the security rim. One man tried to cut into the rim to remove the meter. The short circuit fried his pliers, welding them to the frame.
Jeff Hymas: "He left all his tools there so he was obviously either injured or really surprised."
In another case the want-to-be vandal almost burned his house down when the bypass wires overheated and started to melt.
Jeff Hymas: "Someone was trying to feed all of the electricity to their house through two separate small wires that are not the type we would use to get electricity into a home."
Another guy tried to use battery booster cables, rated for only 12 volts.
Jeff Hymas: "It can cause fires to homes. It can cause damage to property. It can cause hazards to people walking by, children playing. People don't realize the power of electricity."
It's dangerous. It's costing honest ratepayers more. And it's against the law. Some are tampering to steal electricity not just from the utility but from their neighbors.
Jeff Hymas says if residents see anyone acting suspiciously around a meter, contact authorities and Utah Power.
×
Most recent Utah stories