Estimated read time: 2-3 minutes
This archived news story is available only for your personal, non-commercial use. Information in the story may be outdated or superseded by additional information. Reading or replaying the story in its archived form does not constitute a republication of the story.
Keith McCord Reporting The Salt Lake Police Department is encouraged at how one of its own is responding to a serious medical condition.
JJ, a member of the K-9 unit, was recently diagnosed with an aggressive form of cancer, and veterinarian's thought he might only live another 30 to 60 days.
But, JJ looks great, and is still on the job!
JJ is a bloodhound, one of two on the SLPD's K-9 unit. His specialty is tracking down criminals, and he's certainly good at it. He's been at it since 1999. And through the years he's helped apprehend 241 bad guys, his latest catch was last week!
Meet JJ, the oldest member of the Salt Lake Police Department's K-9 unit. His handler, and owner, is officer Mike Serio. JJ is nine years old, and has been tracking for the cops for the past seven.
Officer Mike Serio, SLPD: "He's a real mellow dog, but when he tracks he gets real excited."
And he still does, despite the fact that he's been undergoing an experimental cancer treatment in New York for the past six weeks! JJ had a malignant melanoma cancer growth removed from his mouth recently, but they couldn't get it all. Local veterinarians knew of a new vaccine and radiation treatment that doctors in New York were using. So, every other week, Officer Serio and JJ fly there for treatment. After an original prognosis that JJ might not last for two months, things are looking up!
Officer Mike Serio: "And with the vaccines, if they kick in, he could possibly live a year plus. Some of the other dogs that are doing this have a chance to live out their entire lifespan."
JJ was featured on Eyewitness News back in 2000 when he first joined the force. He was the first Bloodhound on the K-9 unit.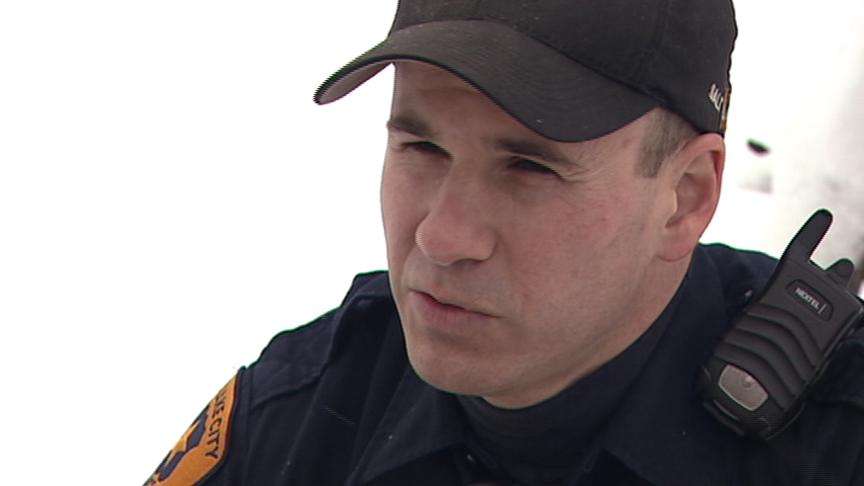 Officer Mike Serio: "He was a new type of dog, and he had to prove his worth immediately, and he did."
The bi-weekly cancer treatments aren't cheap, about $9,000 so far. Officer Serio is paying for the costs, but other officers have spread the word, and donations are coming in.
Sgt. Chris Ward, K-9 Unit Dept. head: "We've had donations come in as far away as Virginia, Montana... I just got one from Idaho yesterday."
Right now, the prognosis is good. Officer Mike Serio says JJ's behavior hasn't changed much, either at work or home!
Officer Mike Serio: "He sleeps at the foot of the bed or on our bed. And we have a three-year-old daughter who absolutely adores him. So, yeah he's definitely a big part of our family."
And he's a big part of the Salt Lake Police family as well. JJ has two more treatments in New York, with follow-ups after that. JetBlue Airways has donated the flights so far. For those who wish to donate to offset some of the vet costs, contact the Salt Lake Police Department at 801-799-3000.
×
Related links
Most recent Utah stories