Estimated read time: 3-4 minutes
This archived news story is available only for your personal, non-commercial use. Information in the story may be outdated or superseded by additional information. Reading or replaying the story in its archived form does not constitute a republication of the story.
(KSL News) Heavy snowfall has caused some problems in northern Utah Friday morning, including several power outages.
This heavy wet snow caused some damage to trees and power lines. Early this morning, some 10,000 residents along the Wasatch Front were without power, but by about noon that number was down to around 1,500 Rocky Mountain customers.
Rocky Mountain Power says a transformer blew in the area of 3500 South and 8200 West, causing that outage. Some of the businesses have seen a considerable slowdown, and a lot of residents are feeling the effects on the storm.
Cypus High School was without power for about two hours this morning. Classes were not canceled initially, but a lot of students were left in limbo. At about 10:45 a.m. they decided to send the students home.
Lake Ridge Elementary School in the Granite District is still without power, but classes are being held there. Power was out earlier at two other schools but has since been restored.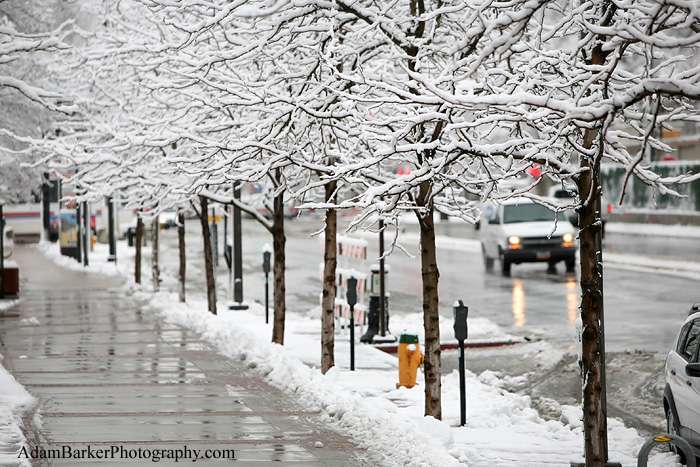 Also, Salt Lake Community College's Meadowbrook campus is closed because of a power outage. All classes are off at the Meadowbrook campus, but the main campus is not affected.
A downed power pole knocked out power to approximately 2,800 homes in Rose Park. In South Salt Lake, 900 homes were without power. Also, 500 homes in Park City and 300 in Pleasant View, near Ogden, were without electricity, as well.
Rocky Mountain Power says weather is to blame in each case.
The snow storm arrived around 4:00 this morning. It hit hard and quickly.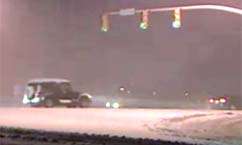 Some roads are snow-packed, especially secondary roads. Most of the Interstates have been salted, so they're in better shape.
Traffic was very slow on northbound I-15 near Point of the Mountain and on I-80 in Parley's Canyon.
Most valley areas along the Wasatch Front have received anywhere from two to four inches of snow, and a little more may accumulate before the morning's over.
Utah County saw a mixture of rain and snow, turning to snow this morning. Snow and rain are reported in parts of southern Utah as well.
Snow removal trucks were out early trying to keep roads cleared but still there were many many slide offs and small accidents, although none that we heard of were serious.
Lots of folks had to get out shovels and snow scrapers, but say it's just part of living in Utah.
Linda Klein: "I'm not crazy about the snow. I wish it would stay in the mountains, where it looks beautiful. But shoveling is not so nice."
Cory Bates: "Looking forward to it. I was kind of wondering if there was going to be more snow... Go snowboarding some more."
Hopefully he's planning on hitting a resort for that ride. Avalanche experts tell us this storm is making the avalanche danger even worse than it has been, and we've had 13 days of human-triggered avalanches. They tell us the slides that are coming down now are big ones. Now they are warning people to avoid any kind of slope in the back county, not just the steep ones.
×
Photos
Related links
Most recent Utah stories