Estimated read time: 2-3 minutes
This archived news story is available only for your personal, non-commercial use. Information in the story may be outdated or superseded by additional information. Reading or replaying the story in its archived form does not constitute a republication of the story.
Ed Yeates Reporting He was a loner, antisocial and angry, with no friends; but unlike others, this young Utah man did not fall through the cracks. He got help and is turning his life around.
This could be another story that could have gone bad, but we are glad it didn't.
Twenty-two-year-old Alex Peery is turning his life around in a big way. Three years ago, he was in deep psychological trouble, fitting a stereotype, a profile of someone close to the edge of violence.
Alex Peery: "I pushed my family away because I didn't want to be close to anybody. There was no reason to be close to people."
Though different now, Alex, then, was an angry loner wanting to lash out at people.
Alex Peery: "I got mad."
Question: "Were you mad at society as a whole?"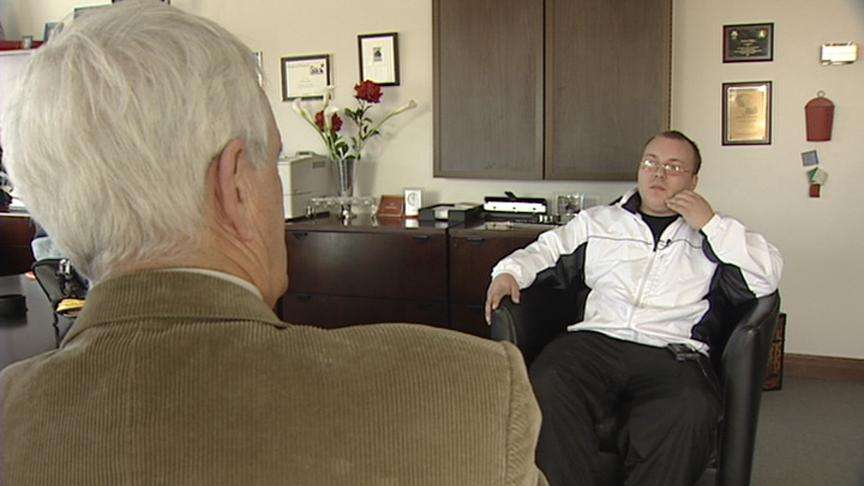 Alex Peery: "Everybody. Everybody was the enemy. It's terrifying. It's scary. You're alone all the time. It's like being locked up inside. There's a piece of you you don't want to give to people."
But Alex's brother and others recognized that piece of him that, though sometimes subtle, was crying for help.
Alex Peery: "I feel like a gift has been given to me to change, to get a new life."
Changed he has, and changing, he still is! Through a program at Valley Mental Health, Alex is learning how to deal with his mental illness.
Alex Peery: "It's a struggle still. Don't get me wrong. But it's a good struggle, no anger. Feels good. I get angry, yeah, but it's not the same. It's never the same."
Like all of us, Alex watched the senseless tragedy unfold here at Trolley Square. But from his perspective, there are feelings of compassion and sorrow not only for the victims but the shooter as well.
Alex Peery: "He probably needed help and he didn't get help at the right time or right place, and he chose to take it out on other people. In a way, that to me, think of what I could have done."
But where Alex was, he is no more! And what he has now he desperately wants to share with others.
Alex Peery: "I wish there was a way that I could give 'em what I've got, that hope or something to make them want to change or get help, a peace of mind."
Alex wakes up every day savoring his family and new-found friends. People reached out for him. Now, he says, it's my turn.
Alex Peery: "You help one person and then the next person helps another, and then it keeps going down the line."
On a scale of one to 10, Alex says he's half-way through the healing process and he's determined to make it all the way.
×
Most recent Utah stories