Estimated read time: 1-2 minutes
This archived news story is available only for your personal, non-commercial use. Information in the story may be outdated or superseded by additional information. Reading or replaying the story in its archived form does not constitute a republication of the story.
Richard Piatt Reporting Transportation is among the big ticket items Utah lawmakers are talking about at the Capitol. There is a proposal to devote a large portion of the state's surplus to road projects. But will that be enough?
Let's face it: We're all familiar with the gridlock on the roads, that teeth-grinding frustration of being stuck in traffic. But to solve that problem, it's going to take money, a lot more than you might think, even to get started.
That's why Representative Becky Lockhart of Utah County wants to put a chunk of the surplus into something called the Transportation Investment fund this year.
That would infuse the amount of new money for road projects to the tune of $300,000,000 dollars. That's 17 percent of the sales tax. The fund gets eight percent now.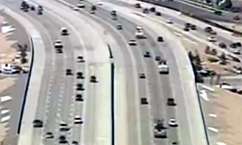 That's a huge increase. But populated areas are growing so fast, that even that is a fraction of what's needed.
Rep. Becky Lockhart, appropriations vice chair: "It's overwhelming. We have literally billions, that's with a 'b', billions of dollars of need, and we've got to find the revenue, or we'll be in failure. A lot of people would say we're in failure right now."
This year the Legislature is also planning to devote about $240,000,000 dollars to finish Legacy Highway. And they're trying to figure out how to pay for tens of billions of dollars of projects that would replace bridges, expand I-15 in Utah County, improve roads in southern Utah and begin Mountain View Corridor.
We're talking about education, tax cuts and human services taking up a big chunk of the state budget. But roads are clearly right up there in the money-hungry big picture on Capitol Hill.
×
Most recent Utah stories