Estimated read time: 2-3 minutes
This archived news story is available only for your personal, non-commercial use. Information in the story may be outdated or superseded by additional information. Reading or replaying the story in its archived form does not constitute a republication of the story.
Marc Giauque and Samantha Hayes ReportingTwo men, both in the same place by chance. But one became a victim while the other a hero in the Trolley Square shootings. They met each other Thursday.
Shawn Munns: "It could have been much different than it was had he not been there had he not been prepared. So I kind of wanted to hear his side of the story and his take on things."
Officer Ken Hammond: "It was just kind of nice to talk to him and answer some questions and have a little bit of closure."
Shawn Munns is still recovering from his injuries but is home and doing well. He told Eyewitness News his emotional recovery is also very important.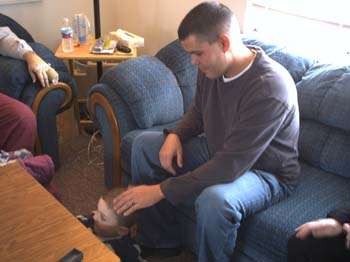 He wants closure, and Thursday met the Ogden police officer who first responded. The two men never crossed paths during the shooting, but both men felt it was important to meet each other. In Officer Hammond's own words, "to put a face on things."
Officer Ken Hammond: "They were just a name in the paper and a name on the news, but I really wanted to meet the people that were there."
Officer Ken Hammond, with his wife and child, came to meet one of those people, Shawn Munns. They invited Eyewitness News inside but preferred only photographs during their meeting.
Shawn Munns, Survivor: "I just wanted to, parts of this still unreal and meeting him, and I'm hoping to meet some of the other victims. And I think that just adds to the reality of it and grasp it and this really did happen the other angles and sides of it."
Officer Ken Hammond: "We just kind of talked about the things we went through, and he had some questions about what myself and other officers went through."
After their meeting, Shawn Munns spoke to us.
Shawn Munns: "It's just so nice to be home in your own space, in your own bed, on your own couch, in your own clothes. You know it's just great."
Looking back, it would be easy to say he was in the wrong place at the wrong time. But lying in the hospital bed in those first quiet moments, Shawn Munns had a thought that will never escape him.
Shawn Munns: "Just thinking about how lucky I was. I was pretty lucky for being unlucky, and I was really, really happy about that."
Shawn Munns still has BB pellets from the shotgun inside his body. It's just something doctors say he will live with, but he has a sense of humor about it, calling himself metal man, and that he'll need a special pass to make it through security when he travels.
×
Photos
Related links
Most recent Utah stories