Estimated read time: 2-3 minutes
This archived news story is available only for your personal, non-commercial use. Information in the story may be outdated or superseded by additional information. Reading or replaying the story in its archived form does not constitute a republication of the story.
SALT LAKE CITY (AP) -- A baby kidnapped while his mother went to smoke a cigarette was found in good condition Wednesday at a YWCA facility in downtown Salt Lake City, and the suspects accused in the abduction were taken into custody.
Earlier Wednesday, police said the transient couple who allegedly took the infant from the ZCMI shopping mall Tuesday night were trying to teach the mother a lesson.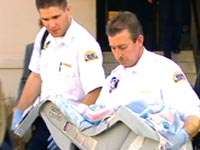 At least two of the three suspects sought for questioning in the kidnapping were identified by witnesses at a YWCA facility Wednesday afternoon. The suspects had gone to the facility and acted nervously while waiting for help with diapers, formula and other baby items.
YWCA officials recognized the suspects from television reports about the case and called police.
The suspects were part of a group of seven homeless people who socialized with each other, said Salt Lake City Police Lt. Jim Jensen. The group discussed how the mother, 20-year-old Jennifer Tripplett, wasn't caring for the child properly, Jensen said.
Police issued a "Rachael Alert" at 8:30 a.m. Wednesday to find the child.
When Tripplett left the ZCMI Mall food court around 6 p.m. Tuesday for a cigarette, she left her son, Nicholas, 21/2 months, with the group. Upon return, her son, baby carriage and diaper bag were gone, Jensen said.
Jensen said police delayed using the "Rachael alert" because "it wasn't a stranger abduction. These are people who know each other, socialize with each other."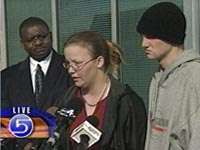 Tripplett said she lives in a family shelter because she lost her job. Her son suffers respiratory problems, she said, but she's caring for him as best she can.
The suspected kidnappers were identified by police as Cassandra Gonzales, 19, and Harold "Danny" Rutledge, 32, and another female transient who goes by the name "R.C." and is Gonzales's mother.
They have not been formally charged.
The suspects have no known address, and before Wednesday afternoon's discovery, police had searched homeless shelters, the streets and campsites for the baby and suspects, to no avail.
Tripplett said Gonzales "wanted a child. Since she can't carry one, she wanted mine. She was a friend to me. She was always there for me when I needed someone to talk to."
(Copyright 2003 by The Associated Press. All Rights Reserved.)
×
Most recent Utah stories