Estimated read time: 4-5 minutes
This archived news story is available only for your personal, non-commercial use. Information in the story may be outdated or superseded by additional information. Reading or replaying the story in its archived form does not constitute a republication of the story.
(Reno-AP) -- Reno police say they are treating the search for the missing mother of a 3-year-old who was abandoned in a Salt Lake City store the same as they would a homicide.
Police Chief Jerry Hoover told a news conference this afternoon that evidence found at the home of the woman's husband indicates that there was foul play. He wouldn't say what that evidence is.
But he said her husband has a history of violence and had access to weapons.
The missing woman, Jeannette Acord, was last seen on January 13th and was last heard from on January 21st when she called an ex-husband.
Her husband, Lyle Montgomery, is accused of abandoning the 3-year-old, Johnathan Jacob Corpuz, in the store on Saturday. He is charged with child abuse in Utah.
He's undergoing evaluation in a psychiatric hospital in Reno today.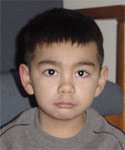 Montgomery was charged Thursday in Salt Lake City with a misdemeanor count of child abuse in the alleged child abandonment. But his lawyer said police have given no indication he is a suspect in the disappearance of Acord, whom he married in December.
"I have been told they don't have any information to make him a suspect or to eliminate him as a suspect. They're investigating other leads," Reno lawyer Marc Picker told The Associated Press.
Montgomery was handcuffed at his Reno home Wednesday night and taken to police headquarters for questioning before being taken to Washoe Medical Center. On Thursday, an emergency room technician committed him to the psychiatric hospital.
Montgomery had taken sleeping pills and alcohol before police found him when they served a search warrant at his home, Picker said. The lawyer said it was not a suicide attempt.
Reno police said Montgomery volunteered to go to headquarters for questioning, but refused to talk once he arrived. Police Lt. Ron Holladay said police still were searching the home Thursday after finding at least one handgun there.
"We are trying to find out where his wife is," he said. "That is our primary concern."
Boy Says Stepfather Shot at Mother
It was a deputy district attorney who was prosecuting Lyle Montgomery on other charges who recognized him on televised surveillance tape as the man who left a 3-year-old in a Salt Lake City store.
A police affidavit filed today in Reno said Kelli Viloria identified the man being televised by CNN as Montgomery.
Viloria was prosecuting Montgomery in a domestic abuse case filed by his wife, Jeannette Acord. Acord has been missing for two weeks.
The affidavit also says the child -- Jonathan Jacob Corpuz -- told investigators that Montgomery shot at his mother but hit a dresser. The affidavit also says the child told police he and Montgomery left Reno when it was dark and he woke up when it was light.
The child makes no mention of knowing where his mother was and none of her accompanying him and Montgomery on the trip.
The police affidavit filed for the search warrant in Washoe County District Court said that, based on information from the boy, police believe the mother "may have been injured, killed, restrained or otherwise harmed" at Montgomery's home.
Holladay said police obtained a number of pieces of evidence at the home and were seeking a second search warrant for a storage unit that belongs to Montgomery.
Reno police said they would have no more comment until a news conference scheduled Thursday afternoon.
Acord has not been seen since Jan. 13.
"We share the concerns of the Reno Police Department as well as the FBI that there's a high probability of foul play in this matter, and we're looking into her whereabouts," Salt Lake City police Lt. Jim Jensen told the NBC "Today" show Thursday.
Montgomery is believed to be the man pictured on a ShopKo security videotape with his 3-year-old stepson, authorities said.
The boy was abandoned at the store by a man who gave him a toy to play with and walked out. The child's identity was a mystery for days.
The boy told authorities his name was Jacob and his mother's name was Janet or Jeannette, but he didn't know his last name. No one had reported him missing in Reno, but a woman there recognized the child from a televised photograph and called authorities.
In October 2002, Acord brought a criminal complaint against Montgomery in which she said he assaulted her by pulling a firearm on her with her son in the room, Picker said. He also said the mother disappeared for several weeks, then reappeared and the couple married.
"I'm not concerned that Mr. Montgomery committed any kind of crime against her. I don't believe he did," Picker said. "I can't answer for anything else that might have happened to Mrs. Montgomery."
Lyle Montgomery had been scheduled to appear in Reno Justice Court Thursday for a preliminary hearing on the October assault charge, but Picker said that was canceled.
The child has been placed with a foster family in Utah. The boy's biological father, who lives in California, has spoken with his son, police said.
(Copyright 2003 by The Associated Press. All Rights Reserved.)
×
Most recent Utah stories