Estimated read time: 2-3 minutes
This archived news story is available only for your personal, non-commercial use. Information in the story may be outdated or superseded by additional information. Reading or replaying the story in its archived form does not constitute a republication of the story.
SALT LAKE CITY (AP) -- Colored parkas, elaborate fireworks and familiar dignitaries -- one year later, the scene was much the same at Rice-Eccles stadium as it was for the Opening Ceremony of the 2002 Winter Games.
Thousands of people gathered at the base of the Olympic cauldron Saturday night for a one-year anniversary celebration of last year's Olympic games.
The cauldron was re-lit to a backdrop of fireworks and the singing of the Mormon Tabernacle and Madeline Children's Choirs. The exuberant crowd of volunteers and staff cheered their favorite memories as footage of the Games played on several large screens.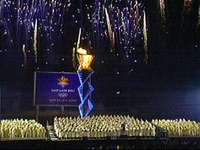 Kate Jewkes shoveled snow at Snowbasin for the men's downhill skiing races during the Games. She came to Saturday's celebration to remember the good times she had as part of the Olympic team.
"I wanted to see the cauldron lit up because it's a neat thing to see -- it's beautiful," Jewkes said. "I thought we did a fantastic job. Every part of it was great."
Gov. Mike Leavitt and Salt Lake City Mayor Rocky Anderson thanked the crowd of staff and volunteers, which numbered in the thousands.
"You inspired people to higher goals," Anderson said. "We now have the reputation in Salt Lake City as being the warmest, most hospitable, most gracious hosts because of what you did during the 2002 Olympic Games."
A message from Salt Lake Organizing Committee President Mitt Romney had been videotaped the previous day because Romney was obliged to return to Massachusetts due to the heightened national terror alert.
"We all shared something special together," Romney said on the tape. "So much was given by so many with so little thought of themselves."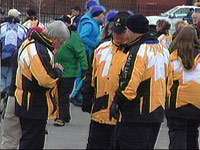 The 72-foot high cauldron has been permanently installed at the south end of Rice-Eccles stadium, where it will be the centerpiece of an Olympic plaza with a pool and a wall with the Games' medalists. The cauldron will be lit every year on the anniversary of the 2002 Opening Ceremony.
(Copyright 2003 by The Associated Press. All Rights Reserved.)
×
Most recent Utah stories