Estimated read time: 2-3 minutes
This archived news story is available only for your personal, non-commercial use. Information in the story may be outdated or superseded by additional information. Reading or replaying the story in its archived form does not constitute a republication of the story.
Jed Boal Reporting Many of us probably take our citizenship for granted at times. If we were born here, we may not consider how intensely people persevere to become Americans.
I met with some new Americans today.
Every month, Salt Lake City welcomes new U.S. citizens from around the world. Today, nearly 200 people took the oath of citizenship. Many told me they dreamed and fought and waited for this day many years.
One hundred ninety-nine people from 53 different nations pledged their allegiance to the United States.
Some of the numbers show nine Indians, 15 Bosnians, five Iranians, 55 Mexicans, four Tongans and seven Sudanese, including Simon Hoth, became new citizens. One of the so-called "Lost Boys," he wandered as a refugee for seven years and arrived in Utah six years ago. He's American now.
Simon Hoth, new citizen: "The United States is for all people, not one person."
Judy Chaston was a Canadian who grew up in both countries. She has five American children and 15 American grandchildren. She knew after 9-11 she needed to become an American citizen.
Judy Chaston, new citizen: "It solidified for me that this is my place, this is my country. Now I'm an American."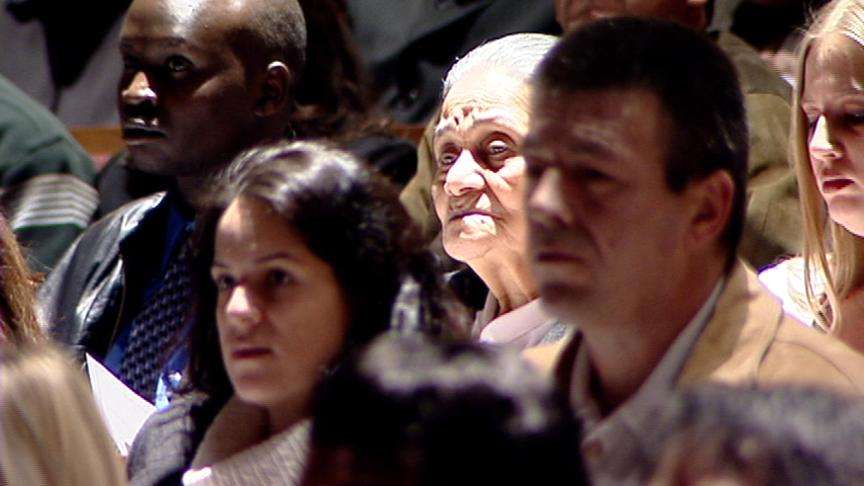 So is Selva Kumar, who arrived from India with 20 bucks in his pocket. He sought entrepreneurial opportunities.
Selva Kumar, new citizen: "Eight years I've been separated from my family. Now I can legally bring them here. It's going to be a great day in the next year to bring them here."
Gladis Gonzalez was a baby when she arrived from Mexico with her mother.
Gladis Gonzalez, new citizen: "As beautiful as Mexico is, I love America, and even though my family is in Mexico, I feel like I belong here."
It's a difficult process. For most of those new citizens, it was a day of relief and excitement.
×
Most recent Utah stories