Estimated read time: 2-3 minutes
This archived news story is available only for your personal, non-commercial use. Information in the story may be outdated or superseded by additional information. Reading or replaying the story in its archived form does not constitute a republication of the story.
John Daley Reporting A dire new report on the future of water in the West represents an urgent wake-up call, anticipating reduced supplies and rising temperatures.
As I found out, the study by the National Academies says population growth will make the challenges even more challenging.
Lake Powell and the Colorado River, powerful symbols of both the promise and the peril of the West's water system, built to sustain life in a harsh climate but always with plenty of uncertainty.
A new National Academies report looked at tree-ring data and found greater variations in Colorado River flows and extended droughts, the kind which could become more severe in the future as regional temperatures warm as predicted.
Dennis Strong, Director, Utah Division of Water Resources: "We need to look at available water supplies, what we can develop. We need to be aware that the water supplies might be reducing, and our options would be then importing water from another source, using less water."
Richard Ingebretsen, of the conservation group Glen Canyon Institute, sees the report in even more stark terms.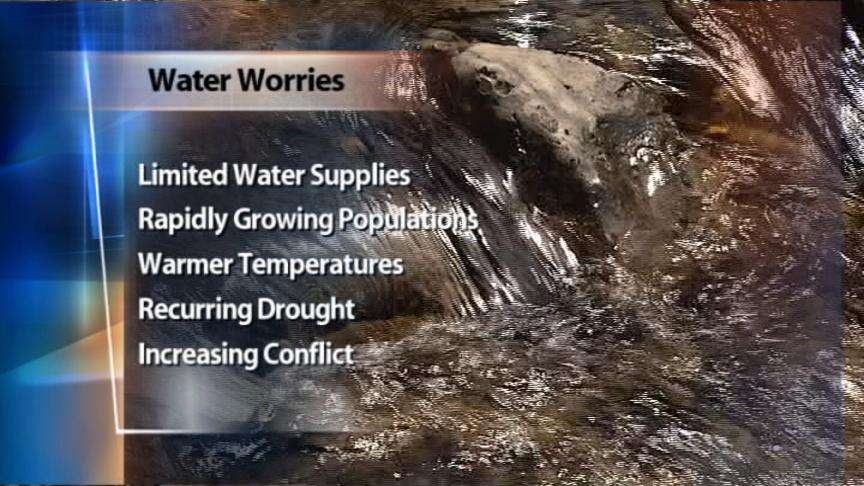 Richard Ingebretsen, Glen Canyon Institute: "The report issued today is a wake-up call for western water. It's kind of a scary report. It just indicates that there needs to be overwhelming, comprehensive changes in the way we run our water, or we're not going to have any water."
Limited water supplies, population growth, warmer regional temperatures and drought will lead to the potential for more conflict and tough trade-offs.
When it comes to industry, agriculture, our homes and our lawns, we can expect to have to get by with less and pay more for it.
Dennis Strong: "We still have a finite quantity of water. I think we're talking about a planet that has limits as to what it can sustain. And we as a society need to talk about what can Mother Earth take care of."
Richard Ingebretsen: "Now as the population is increasing, and we're going to have less snowpack in the mountains. We're going to have to be careful how we use every drop of water."
The report concludes with the West's rapid growth, conservation won't be enough, as this precious resource gets even more precious.
×
Most recent Utah stories