Estimated read time: 3-4 minutes
This archived news story is available only for your personal, non-commercial use. Information in the story may be outdated or superseded by additional information. Reading or replaying the story in its archived form does not constitute a republication of the story.
SALT LAKE CITY (AP) -- The religious fanatic accused of kidnapping Elizabeth Smart may have tried to abduct her 18-year-old cousin seven weeks later, authorities said Friday as they began studying a 27-page manifesto (more on the manifesto) in which the suspect talks of assembling a harem of wives.
According to a July 24 sheriff's report, the screen on Jessica Wright's bedroom window was cut and a chair was found beneath it. The would-be intruder fled when the family heard noises in the night and called authorities.
A chair was similarly found under the kitchen window at the Smarts' home after Elizabeth disappeared from her bedroom early on June 5. And the screen was reported cut from the outside.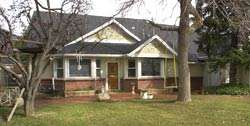 "It's more than a coincidence," said Sheriff Aaron Kennard. "You have this cousin who looks like Elizabeth and is good friends with Elizabeth."
At a late afternoon news conference, sheriff's investigators say they have "solid leads" linking the break-in with the one at Elizabeth Smart's home in early June.
"We immediately felt in the back of our minds that it could be related," said Salt Lake County Sheriff Aaron Kennard.
Kennard said his evidence was headed to county prosecutors for possible charges, which could come early next week. Jessica Wright has been described as Elizabeth's favorite cousin.
Police found Elizabeth on Wednesday walking in a Salt Lake City suburb with Brian Mitchell, a shaggy-haired vagabond and self-styled prophet. With them was his wife, Wanda Barzee. Authorities said the three had been living under bridges and in tents in Utah and California, apparently panhandling to eat.
Family members and police have not disclosed details of Elizabeth's ordeal but have indicated the couple had gained a hold over her psychologically. Her father, Ed Smart, said he fears she was brainwashed.
Investigators are poring over a document titled "The Book of Immanuel David Isaiah," seized Thursday in Montana from one of Mitchell's relatives. It was believed to have been written by Mitchell, whose aliases included the name Emmanuel.
In it, Mitchell calls polygamy a lost "blessing." And he refers to himself as a "just and merciful" God who can restore lost blessings to those who do not sin.
One passage, in which he appears to address his wife by a biblical name, says: "Thou wilt take into thy heart and home seven sisters, and tho wilt recognize them through the spirit as thy dearest and choicest friends from all eternity."
Police have said Mitchell was excommunicated from the LDS Church, the religion of the Smart family, and considered himself a polygamist. The practice has long been outlawed in Utah.
Asked whether Elizabeth may have been taken to be a wife, the girl's aunt, Angela Dumke, said, "You never know. He's nuts."
"This guy's probably involved in polygamy," said Dumke, Ed Smart's sister.
Dumke said another theory is that Barzee considered Elizabeth to be her child. Relatives of the 57-year-old woman said she fled a violent marriage years ago, leaving behind six children.
Police said Elizabeth was snatched from her bed at knifepoint and spent her first two months with Mitchell and Barzee in a tent within two miles of the Smarts' house. They later left for the San Diego area.
Mitchell was arrested twice during the time police say Elizabeth was with the couple -- once in Salt Lake City on suspicion of shoplifting Sept. 27 and another time for trying to break into a San Diego County church, apparently in search of a place to sleep.
Mitchell pleaded innocent to charges in the shoplifting case Friday.
Prosecutors said aggravated kidnapping and other charges from the Smart case would probably be filed against the two Monday.
Elizabeth's mother, Lois Smart, said Friday that the teenager was feeling "fantastic" and sleeping well for the first time since her ordeal began. The Smarts have yet to decide when Elizabeth will return to school, she said.
For now, "we need to be with Elizabeth," the girl's mother said.
(Copyright 2003 by The Associated Press. All Rights Reserved.)
×
Most recent Utah stories