Estimated read time: 2-3 minutes
This archived news story is available only for your personal, non-commercial use. Information in the story may be outdated or superseded by additional information. Reading or replaying the story in its archived form does not constitute a republication of the story.
Karen Scullin reportingAs we learn more and more about the couple accused in Elizabeth Smart's kidnapping, we're beginning to see two people who appear to be suffering from severe mental illness. A jailhouse visit this morning between Wanda and an old friend seems to confirm that possibility.
As Wanda Barzee sits in the Salt Lake County jail, she remains very true to her religous convictions.
Vicki Cottrell, an old friend of Wanda's, and Utah's Execuive Director for the National Association of the Mentally Ill, visited Barzee this morning.
Cottrell said, "She and her husband Brian, or Emmanuel as she calls him, have been chosen to bring they're philosophy to the world."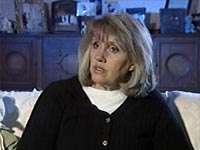 Cottrell says Wanda and Brian Mitchell believe their actions are dictated by divine revelations they have together, including one that led to the kidnapping of Elizabeth Smart.
"Every single decision they make is based on what she says is revelation." Cottrell continued.
Mitchell wrote about his revelations in a 27 page manifesto, a rambling and disjointed collection of preachings and prophecies.
At one point, the document refers to his Wanda, by the name Hephziba, and contains a divine order:
"...thou wilt take into they heart and home seven sisters, and thou wilt recognize them through the spirirt as they dearest and choicest friends.
Cottrell said, "She said the revelation came Thanksgiving of two thousand, that there were supposed to be seven wives."
Although Wanda says Elizabeth was a second wife for her husband who she believed was the prophet Emmanual, she appeared to speak of Elizabeth more like a daughter.
"She told me she loved her very very much, reporter: Elizabeth? Yes and that she hopes that she will be taken care of...I mean in her mind not being with her is very disturbing to her" said Cottrell.
And it appears there may have been an attempt to take a third wife. We learned today Salt Lake County investigators believe Brian Mitchell broke into another home, through the bedroom window of Elizabeth's cousin, who is about the same age.
Salt Lake County Sheriff Aaron Kennard said, "It's probably not a coincidence that it is that specific bedroom window. And the possibility exists that there was a young female individual"
Brian Mitchell, Wanda Barzee and Elizabeth were in San Diego from October until March the 12th when they came back to Salt Lake. Barzee tells Cottrell they knew their fate before they arrived.
"She said she knew when she left San Diego that they would be coming back to Salt Lake, and they would be going to jail, that they would be taken into custody by the evil doers." said Cottrell.
×
Most recent Utah stories