Estimated read time: 2-3 minutes
This archived news story is available only for your personal, non-commercial use. Information in the story may be outdated or superseded by additional information. Reading or replaying the story in its archived form does not constitute a republication of the story.
SALT LAKE CITY -- Christmas day turned into a day of cleanup for three Salt Lake City business owners. Their stores were broken into overnight and their cash registers stolen.
They were all pulled away from family and friends Friday afternoon to deal with the damage that was caused during the break-ins.
Einstein Bagels, Jamba Juice and Great Clips located in a Brickyard complex near 3200 South and Richmond Street all got hit sometime between late Thursday night and early Friday morning. A passerby spotted the damaged stores around 12:30 Friday afternoon and called police.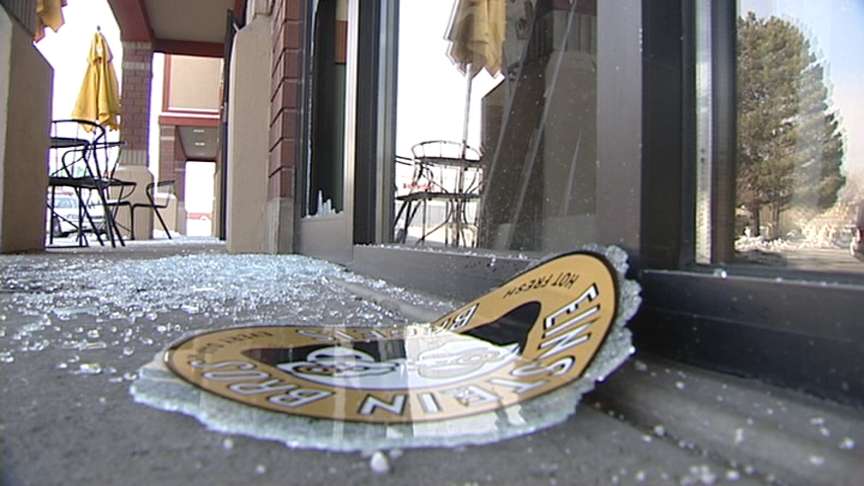 "It kind of throws a wrench in your whole day and everything you planned goes out the window," said Jennifer Held, the manager of Great Clips. She was one of the first people police called.
"My kids said 'the store's calling you,' which is obviously odd, because it's the one day we shut down," she said.
Police said the thieves smashed through the front glass doors one after another looking for one thing.
"The registers inside each had been taken," said Officer Jennifer Heineman with the Salt Lake City Police Department.
Besides the registers, which were apparently empty, it appeared the thieves didn't take much else.
"The stuff that I think they got was pretty minimal considering all the effort they had to go to. It's like, is it really worth it? I mean, it sucks, but they didn't get that much," Held said.
---
It kind of throws a wrench in your whole day and everything you planned goes out the window.
–- Jennifer Held
---
What the thieves did do was cause at least $200 in damage to each of the doors. It also spoiled Christmas for each of the store owners who had to take time away from their loved ones to clean up the mess.
"On the day where you are trying to spend time with family and friends, all the stuff that we've done for charities and stuff, you just wonder if they're really that desperate," said Held.
Police said two of the stores have surveillance video of the break-ins. They're now in the process of reviewing it to determine if they can identify the person or persons responsible.
E-mail: spark@ksl.com
×
Most recent Utah stories