Estimated read time: 2-3 minutes
This archived news story is available only for your personal, non-commercial use. Information in the story may be outdated or superseded by additional information. Reading or replaying the story in its archived form does not constitute a republication of the story.
Sammy Linebaugh reporting Most of us will always remember where we were and what we were doing, when we heard about Elizabeth Smart's safe return.
One person stopped everything... and headed to Salt Lake City from hundreds of miles away. She has been Elizabeth Smart's best friend since she was just five years old.
Liz Calder/Elizabeth's Best Friend : "I DIDN'T KNOW WHAT TO SAY, I WAS SO EXCITED, I WAS SHAKING AND JUST LIKE, 'HI!"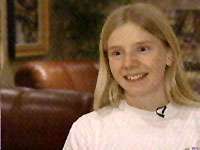 Best friends since kindergarten, it was the first time Elizabeth Smart and Liz Calder had spoken in more than nine months
Liz Calder: "SHE'S LIKE I'VE BEEN WAITING, HURRY UP, I'M COUNTING DOWN. LAUGHS. I WAS JUST BOUNCING ON THE SEATS, AND ANNOYING EVERYONE ELSE IN THE CAR."
Calder was on vacation with her family in California when she got the news. The family cut the trip short and was on the road, almost here, when Elizabeth called on the cell phone to say come straight over.
Calder: "SOME OF HER SIBLINGS CAME RIGHT TO THE DOOR AND THEN SHE CAME RUNNING DOWN THE STAIRS AND WE MET RIGHT AT THE BOTTOM OF THE STAIRS AND JUST HAD A GOOD HUG
The "two liz's", as they're called, talked about the outpouring of love and attention from neighbors and friends who held on, hoped, prayed for this moment. To the cards, flowers, a flood of gifts that have arrived on the doorstep from perfect strangers, well-wishers, literally worldwide.
Liz Calder: "SOMEBODY FROM OHIO SENT ICE CREAM. SHE WAS SURPRISED. SHE SAID, SHE DIDN'T EVEN KNOW THESE PEOPLE, AND THEY WERE SENDING HER ICE CREAM AND.."
"I DON'T KNOW IF SHE KNEW THAT IT WAS SUCH A BIG DEAL, AND THAT EVERYBODY KNEW, AND EVERYBODY CARED."
Last summer, shortly after Elizabeth was taken we talked with Liz and several other friends from the neighborhood.
Then, her abduction was all so unreal.
Chelsea Winegar: "IT SEEMS LIKE YOU'RE IN A NIGHTMARE, AND IT'S ALL GONNA END."
Chelsea Price: "KINDOF LIKE A PIECE OF THE PUZZLE ISN'T REALLY THERE."
Now that the nightmare has ended millions are celebrating Elizabeth's return. Safe, and the friend who perhaps knows her best, says, strong...and hopeful about the future.
"WE TALKED ABOUT WHAT WE'RE GONNA DO IN THE SUMMER."
"GOING SWIMMING, RUNNING, AND PLAYING BASKETBALL."
Making up for stolen months, one step, one smile.. One day at a time.
Many of Elizabeth Smart's friends say she's always been a happy, positive, optimistic person -- and they believe that helped her survive her ordeal.
×
Most recent Utah stories