Estimated read time: 5-6 minutes
This archived news story is available only for your personal, non-commercial use. Information in the story may be outdated or superseded by additional information. Reading or replaying the story in its archived form does not constitute a republication of the story.
SALT LAKE CITY (AP/KSL TV) -- The suspects in the Elizabeth Smart abduction made their first court appearance via video Wednesday and were appointed lawyers because they could not afford their own.
Brian David Mitchell and his wife, Wanda Barzee, were charged Tuesday with aggravated kidnapping, aggravated sexual assault and aggravated burglary in the June 5 abduction. Bail was set for both at $10 million.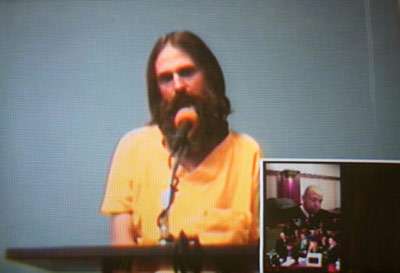 #mitchell_tv
On Wednesday, Mitchell, 49, and Barzee, 57, appeared separately by video from the county jail in a hearing that lasted only a few minutes. Each appeared on television screens and were visible from the shoulders up. Both stood impassively as the charges were read against them, though Barzee blinked her eyes repeatedly.
When Mitchell was asked if his name was Brian David Mitchell, he responded "that is the name that the world calls me by, yes."
Another court appearance was set for April 1.
The two suspects could be sentenced to life in prison if convicted. They were also charged with aggravated burglary and attempted aggravated kidnapping for allegedly trying to abduct Elizabeth's 18-year-old cousin.
The hearing came a day after charges were filed, with prosecutors offering the first details of the torment they say Elizabeth, now 15, suffered at the hands of the self-proclaimed prophet and his wife during a nine-month ordeal.
"We are not dealing with just a religious zealot, we are dealing with a predatory sex offender," District Attorney David Yocom said.
Prosecutors say Mitchell, a drifter who wrote in a religious tract that God commanded him to take seven wives, entered Elizabeth's bedroom using a knife to cut a window screen.
Elizabeth, dressed in pajamas, was forced at knifepoint to walk four miles up a mountain trail behind her house to a concealed campsite, according to prosecutors' allegations in court papers.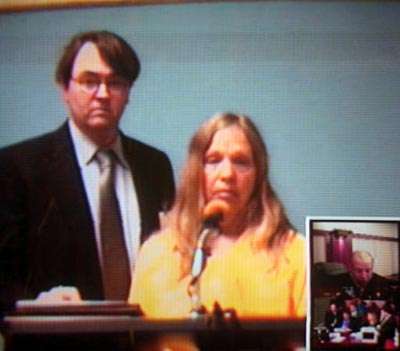 Mitchell threatened to harm or kill the girl's family members if she resisted, the papers said.
"She was under the threat of death," Yocom said.
Prosecutors said that when the trio reached the campsite, Barzee tried to remove Elizabeth's pajamas. When the girl resisted, Barzee threatened to have Mitchell forcibly do it, they said.
Mitchell then "raped or attempted to rape her, or commit forcible sexual abuse against her," with Barzee's help, Yocom said. At some point, the girl was restrained with a cable around her foot that was tethered to a tree, he said.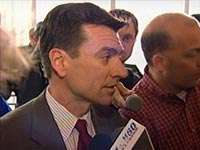 The couple held Elizabeth at the campsite until Oct. 8 with little or no shelter, water or food, prosecutors said. They then took her to California, where they stayed until March 5, according to the court papers.
Elizabeth was found with the couple on March 12 in Sandy, a Salt Lake City suburb.
Yocom said it was unclear why Mitchell would have chosen Elizabeth. He may have seen her during his five hours of handyman work on the Smart home in November 2001, or when Elizabeth's mother Lois Smart, possibly accompanied by Elizabeth, hired him as he panhandled outside a downtown mall, the prosecutor said.
Smart family spokesman Chris Thomas called the charges "disheartening."
"But the important thing is they have Elizabeth back," Thomas said. "They did everything they did to find her, but they felt her destiny wasn't in their control. Now they have some control."
The family will no longer answer questions from reporters about what happened to Elizabeth, Thomas said.
Attorney Larry Long, who initially claimed to represent Mitchell, said Mitchell told him that he considers Elizabeth his wife and that her disappearance was a "call from God." But according to Yocom, Mitchell said Long wasn't his attorney and had no authority to speak for him.
Prosecutors allege Mitchell and Barzee unsuccessfully attempted to kidnap Elizabeth's cousin on July 24. A window was cut, but the family heard the noise and called police.
Mitchell, an excommunicated Mormon, wrote a rambling manifesto last year espousing the virtues of polygamy. The Mormon church has long distanced itself from its polygamous roots and now excommunicates members who practice or advocate it.
Family members have said that Elizabeth was brainwashed, preventing her from escaping despite several opportunities to do so.
Prosecutors said Elizabeth may be asked to testify at trial.
"Of course the defendants in this case are entitled to confront witnesses. That is an important constitutional right," Yocom said. "Close the courtroom, videotape, do other things to protect her privacy and interests. We will attempt, if it comes to that, to do that. It is very important that Elizabeth move on with this, and that her privacy rights be protected."
Thomas said the family would rather not have her take the stand, "but they're willing to do whatever it takes to ensure that these two individuals receive the proper punishment."
Attorney Greg Skordas has been hired by the Smart family to represent Elizabeth's interests during the prosecution.
He said it's his job to make sure Elizabeth is treated fairly, "not that we think the district attorney's office wouldn't. But the prosecutors and the defense have a job to do, neither of which necessarily is to look out for her."
It wasn't all attorneys and media in court Wednesday. Members of the group "Bikers Against Child Abuse," or BACA, let their presence be known. They say they'll be at all court proceedings at the request of the Smart family, and to show support for Elizabeth.
Paul Dubois explained, "We just go to court with the kids to empower them, to make them feel strong enough to testify. That's our main goal."
"We love kids and we just want them to feel safe again," he added.
(Copyright 2003 by The Associated Press. All Rights Reserved.)
×
Most recent Utah stories