Estimated read time: 2-3 minutes
This archived news story is available only for your personal, non-commercial use. Information in the story may be outdated or superseded by additional information. Reading or replaying the story in its archived form does not constitute a republication of the story.
Crime Specialist Karen Scullin reporting As Eyewitness News first reported a week ago, in the days and months following the kidnapping of Elizabeth Smart, the 14 year old girl was forced to live in a very remote campsite in the mountains high above her Federal Heights home.
Today our Crime Specialist Karen Scullin climbed up to that site.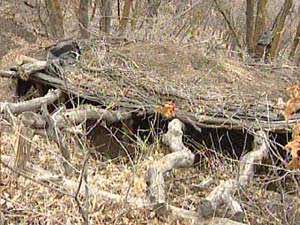 It's about a two hour hike. The terrain is rough and steep. It was hard to do in the middle of the day, so just imagine a frightened Elizabeth Smart at night in her red pajamas and tennis shoes, making the journey.
Sixty-six-hundred feet up a mountainside is the huge hole where Elizabeth Smart was forced to camp for months with her kidnappers.
It's a location that's very remote and well-hidden. Investigators believe Brian David Mitchell built it in anticipation of Elizabeth's arrival.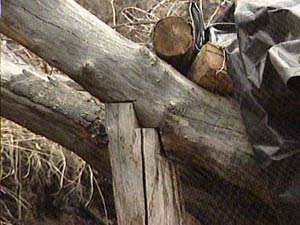 It's obvious a lot of thought was put into this campsite. You can see the logs are actually cut so they interlock. And then there's a nail on the other side holding it all together. Inside, you can stand on a side of the camp, but then there's a very, very steep slope, leaving not much room on the end.
Seven big tree trunks support the hundreds of smaller trees that make up the slanted roof. Thick black plastic allows for the large amount of dirt that sits on top.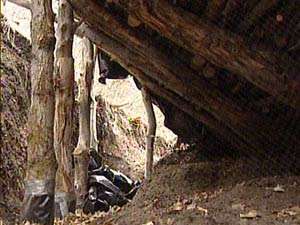 The underground camp is about twenty feet long and about six feet wide.
Outside the hole, the kidnapper created a long, uncovered dirt platform.
The entire camp is held up by a retaining wall. It looks like dozens of logs simply piled one on top of the other, spanning the entire length of the camp.
In the days following the kidnapping, investigators have said Elizabeth could hear searchers calling her name. But the isolation kept ground crews from finding her and the camoflauged roof hid her from heat-seeking cameras.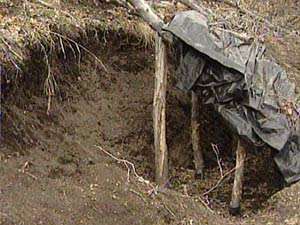 Investigators have recovered several key pieces of evidence from that campsite, including the knife allegedly used in the kidnapping. Crime scene techs and detectives made their last trip up to process the site this morning.
×
Most recent Utah stories