Estimated read time: 2-3 minutes
This archived news story is available only for your personal, non-commercial use. Information in the story may be outdated or superseded by additional information. Reading or replaying the story in its archived form does not constitute a republication of the story.
Richard Piatt reportingWithin one hour this morning, a semi-truck was blown over, a construction worker was critically wounded, and the freeway was closed: All the direct result of surprisingly strong gusts of wind.
An emergency on west-bound I-80--a construction worker seriously hurt after a violent gust of wind. Co-workers say he was near his truck when a metal cover flipped onto his head. His injury was so severe that a medical helicopter would have been called if the wind gusts weren't so harsh.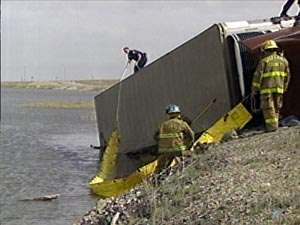 "This is as bad as I've seen it all the years I've been out here," says Bob Olschesky of the Salt Lake County Fire Department. "We do get the occasional blow over, but these gusts of wind are as bad as I've ever seen it."
The news wasn't much better about a mile east of Saltair, where a semi-truck was blown off the road by the driving wind. The driver, Michael Grindle of Michigan, says he just couldn't control the empty trailer, which caught the wind like a sail for an agonizing 200-yard ride before it flipped.
"Put him on his side. He was on two wheels for awhile. Tried to recover it and couldn't recover it. Went on his side and flipped in there," explains Scott Reynolds of the Utah Highway Patrol.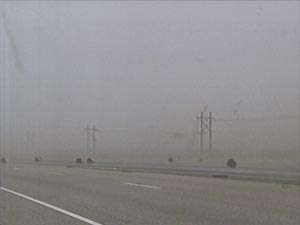 One of the things that made this storm so dangerous was how unpredictable the wind gusts were. One minute it's relatively calm. The next, there's wind strong enough to break the windows out of a truck.
The broken windows help tell the story.
Within 15 minutes, the west bound lanes of I-80 were closed west of Saltair.
It was touch and go for a while today, but now that section of freeway is now re-open, and the winds are back to normal.
×
Most recent Utah stories