Estimated read time: Less than a minute
This archived news story is available only for your personal, non-commercial use. Information in the story may be outdated or superseded by additional information. Reading or replaying the story in its archived form does not constitute a republication of the story.
Keith McCord reporting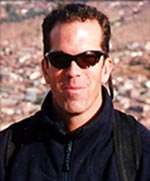 Tribune correspondent Greg Grant says the U.S. troops still don't have complete control of the airport in Baghdad. There is still sporadic fighting going on.
He described the airport as being like having Salt Lake International and Hill Field side by side. There's a commercial side and a military side. It's very big.
And he confirms the reports of Iraqi troops hiding out underground. He says his tank unit found a bunker, right next to some of the tanks, and they tossed a grenade down inside. Immediately a white flag came up, along with 35 soldiers.
Greg's unit also found bunkers full of ammunition, including chemical weapons gear!
"AK-47'S, machine guns, mortar bombs, grenades. And then there's another building, and this is more troubling. (It's) filled with chemical protection suits, atropine injectors, gas masks, and so on."
Grant says the Iraqi troops kept firing mortars at them all night. In fact, one exploded nearby as Greg was speaking to us.
More on that tonight at 10, and Grant will tell us about troop morale right now.
×
Most recent Utah stories