Estimated read time: 1-2 minutes
This archived news story is available only for your personal, non-commercial use. Information in the story may be outdated or superseded by additional information. Reading or replaying the story in its archived form does not constitute a republication of the story.
(KSL News) A mother in Clearfield wants to recognize her son and his high school counselor for helping him reach one of life's major milestones.
Our Coco Warner went to Clearfield High School to deliver this morning's double High 5.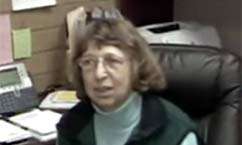 Norma England nominated her son Kaleb and his high school counselor, Helen DeHay. Kaleb got a little bit behind on the credits he needed for graduation. The Davis School District has a program that helps kids get caught up so they can graduate with their class. The counselor that helped Kaleb do that is Helen DeHay.
Norma England: "Kaleb, you have worked so hard to achieve your graduation and to get your credits caught up. Your dad and I are so proud of you and love you so very much. We want you to continue with that determination."
Several other Clearfield High students followed Kaleb's example.
Norma England: "Mrs. DeHay, Kaleb did the work himself, but you were the motivator behind it. You have such a tremendous love and compassion for these students. It's conveyed in everything that you do."
Helen DeHay, Clearfield High School counselor: "I think Kaleb's amazing. He's done a wonderful job. I always tell him he's the poster child for the three-to-six program. We have a wonderful program here. As far as I'm concerned, I don't do anything different from all the other counselors. It's such a privilege to be associated with Kaleb."
Kaleb England, Nominated by Mom: "You should seriously not even be talking to me because this is a wonderful woman right here. She is amazing. She really helped me out. She gave me a lot of opportunities."
Kaleb plans to graduate this spring.
×
Related links
Most recent Utah stories