Estimated read time: 2-3 minutes
This archived news story is available only for your personal, non-commercial use. Information in the story may be outdated or superseded by additional information. Reading or replaying the story in its archived form does not constitute a republication of the story.
Amanda Butterfield ReportingOne week ago tonight a gunman went on a shooting spree at Trolley Square. He killed five people and injured four others before police killed him.
Trolley Square is still a hive of activity tonight, and a few things have happened today.
One of the shooting victims was released from the hospital. Shoppers came here on their day off to spend money. And a Web site dedicated to one of the victims makes it known this story is touching people all over the world.
Thousands of messages have been posted on Vanessa Quinn's memorial Web site.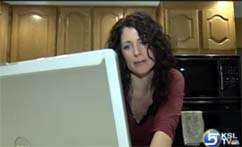 Lori Carpenter, Friend: "I live in Texas, but I'm a former Utahn."
Vanessa was shot and killed in Trolley Square last Monday.
Lori Carpenter, Friend: "I'm so sorry you lost your dear wife."
A friend, Lori Carpenter, made a Web page last Wednesday, the day Vanessa's husband, Rich, held a press conference.
Rich Quinn, Vanessa's husband, Wednesday: "I'm a better person for just having met her."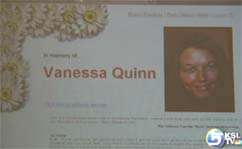 It had 100,000 hits by the end of that day. By Vanessa's funeral, two days later, it had received over half a million hits. Today, it's close to a million hits.
Lori Carpenter, Friend: "Egypt, Belize, Ireland, you name it."
Lori Carpenter, Friend: "I figured it would be friends, family. I had no idea it would be as big as it's been."
At Trolley Square today, shoppers spent the holiday spending money, or adding to a memorial in honor of those killed.
Kristy Oliszczak, Shopper: "I think it's gorgeous. It brings tears to my eyes."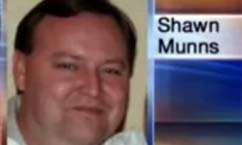 Also today, one survivor of the shooting, 34-year-old Shawn Munns, was released from the hospital. Family members told KSL he is exhausted and on oxygen, but they feel so blessed that he is alive. Another survivor, Carolyn Tuft, has been upgraded from serious to fair condition.
Meanwhile, more messages are being posted every day to Vanessa's site.
Lori Carpenter, Friend: "A lot of people have been leaving really great poems."
Lori Carpenter, Friend: "If there's anything positive that comes out of this, it's that so many people got to know Vanessa."
Lori Carpenter plans to eventually print all the messages, bind them and give them to Vanessa's husband.
×
Related links
Most recent Utah stories