Estimated read time: 2-3 minutes
This archived news story is available only for your personal, non-commercial use. Information in the story may be outdated or superseded by additional information. Reading or replaying the story in its archived form does not constitute a republication of the story.
Carole Mikita Reporting Politics and religion were front and center on the campaign trail in a heated exchange for Mitt Romney this weekend. Evangelicals and Latter-day Saints are trying to make the topic of faith a polite conversation.
Traditional Christians have long had problems with some Latter-day Saint beliefs, as was the case in Florida this weekend. This is the reason for an ongoing event called "An Evangelical and a Mormon in Conversation."
They met 10 years ago, became friends, had lunch from time-to-time, and then started public interfaith conversations. So far, 10,000 people across the country have heard them speak.
Robert Millet, Ph.D., BYU Professor: "This is an effort on our part to say you can really develop close friendships and respect and admiration for another person, even when you have theological differences from them."
Rev. Gregory Johnson, Founder, Standing Together Ministries: "There's just such a pattern established between Mormons and Evangelicals, and certainly Mitt Romney's candidacy puts that into full motion."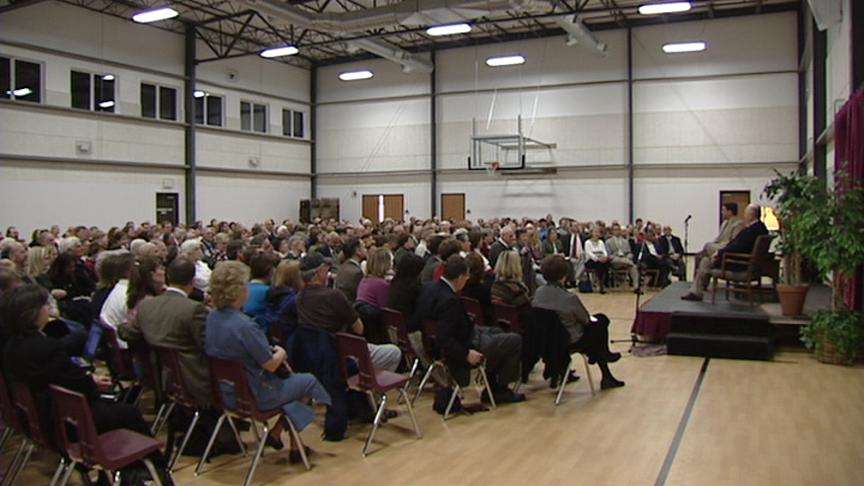 Ongoing antagonism was obvious during a Romney campaign swing through Florida this weekend as a heckler said he couldn't vote for Romney because the governor doesn't stand for Jesus Christ.
Heckler in Florida: "And you, sir, you're a pretender, you do not know the Lord. You're a Mormon (people in crowd react with booing)."
Mitt Romney, Presidential Candidate: "The nation does need to have people of different faiths, but we need to have a person of faith lead the country (crowd applauds)."
Greg Johnson and Robert Millet have each advised Romney on how to talk with Christian conservatives.
Rev. Gregory Johnson: "Mormons and Evangelicals are saying, how can we relate differently to each other? How can we understand one another? How can we ask honest questions of each other? And how can we figure out how to participate in certain things that we certainly agree upon, moral values and things like that."
Over the years that Bob Millet and Greg Johnson have been doing this, they each say that something interesting has happened to them. It has actually strengthened their individual faiths.
Robert Millet: "He's a better Evangelical; I think I'm a better Latter-day Saint. Yet, I know a lot more about what he feels, and he knows a lot more about what I feel than when we started."
Gregory Johnson and Robert Millet are writing a book together. The title will be "Bridging the Divide: The Continuing Conversation of a Mormon and an Evangelical."
Mitt Romney will be in Salt Lake City tomorrow for a private campaign fund-raiser.
×
Most recent Utah stories