Estimated read time: 2-3 minutes
This archived news story is available only for your personal, non-commercial use. Information in the story may be outdated or superseded by additional information. Reading or replaying the story in its archived form does not constitute a republication of the story.
Richard Piatt Reporting Just a fraction of the state's surplus is all they're asking for, but in the final days of the legislature, those pushing for human needs are afraid they're going to have to fight for every penny.
Even this year, in a time of record surpluses, human needs are competing with each other in the state budget. And funding those needs would take up seven percent of the surplus, according to a group called the Family Investment Coalition.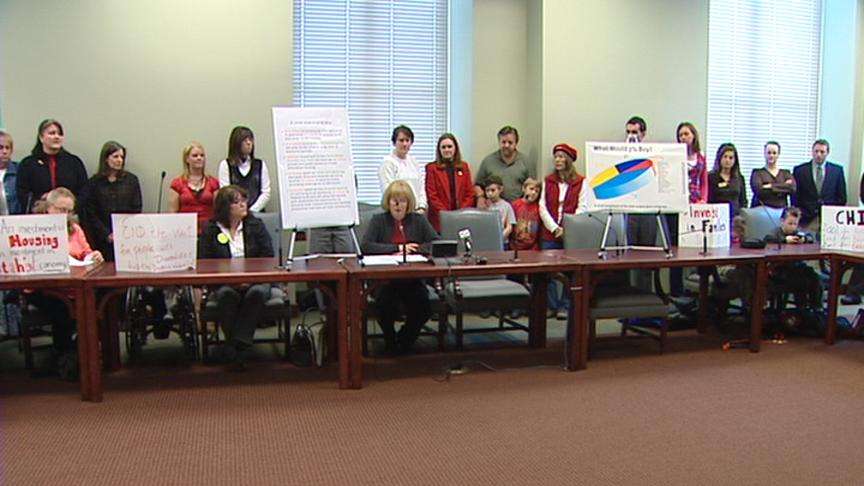 At the Capitol today, people who would benefit from various health care, outreach and subsidy programs shared stories of how a little goes a long way. They say that compared to the funding for the tax cuts, transportation and education, ongoing human needs would take up just seven percent of the surplus, or $56 million. They say it's an investment the state shouldn't ignore.
Gerry Marty, Grandsons Receive CHIP and Medicaid: "All I can say is thank God for the CHIP program because without it David and Dallas would not be alive at this point."
Karen Crompton, Voices for Utah Children: "One of the challenges for these programs is they're all competing against each other. We're all going for the same money from the health and human services budget."
Rep. Ron Bigelow, Appropriations Co-Chair: "When I talk to people, I say you lobby for your concerns, regardless of tax cuts or anything else, because you never know what's going to happen in the final hours."
Representative Ron Bigelow is in the powerful position to oversee the final budget decisions. He says the House and Senate have agreed to devote $210 million to tax cuts this year. That milestone is noteworthy, because all other budget priorities will now be more final than before.
A lot of people thought this year's surplus would solve every problem. Now, in the final days, we can see it's only going so far.
×
Most recent Utah stories