Estimated read time: 2-3 minutes
This archived news story is available only for your personal, non-commercial use. Information in the story may be outdated or superseded by additional information. Reading or replaying the story in its archived form does not constitute a republication of the story.
Stacey Butler reporting...An elderly couple survived a cold and lonely night stranded in a desolate canyon. The couple spent the night huddled together in a ditch after their vehicle bogged down in thick mud. Then, out of nowhere – came an answer to their prayer.
Donna and Morris Clark were on their way to their West Canyon cabin when a storm moved in and the wheel of their truck hit a muddy drainage ditch.
The couple knew if they stayed in the canyon there might not be a passer by for days. They decided to leave their truck and walk toward the main highway.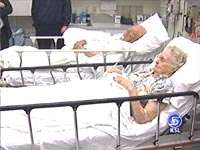 Morris Clark/Stranded: "I FIGURED THERE WAS ENOUGH DAYLIGHT TO WALK OUT, BUT WE WALKED TWO AND A HALF MILES AND COMPLETELY SHUT DOWN."
The couple collapsed from exhaustion and cold.
Morris Clark/Stranded: "WE JUST CRAWLED OFF THE SHOULDER OF THE ROAD AND CUDDLED UP."
Dep.Susan Earl/ Ut. Co. Sheriff's Dept.: "THEY WERE LAYING RIGHT HERE, SIDE BY SIDE RIGHT NEXT TO EACH OTHER. THIS WAY-EXTREMELY COLD."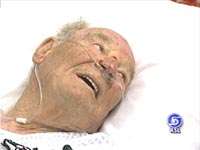 Morris Clark/Stranded: "WE DID A LOT OF PRAYING THROUGH THE NIGHT."
Just as the couple began to lose hope -- American Fork resident, Gene Carson, had what he describes as a sudden prompting to drive up West Canyon. Something he's never done this time of year.
Gene Carson/Passer-by: "I DON'T KNOW WHAT MADE ME GO UP THERE. JUST ONE OF THOSE THINGS."
Morris Clark/Stranded: "HE NEARLY PASSED US, WE YELLED AND YELLED AT HIM AND HE STOPPED AND MADE US A BELIEVER IN PRAYER."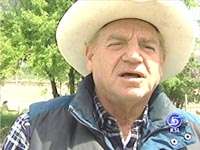 Gene Carson/ Passer-by: "WHEN I WALKED UP ... PRAYERS HAVE BEEN ANSWERED."
Susan Earl/Utah Co. Sheriff's Dept.: "SOMEONE WAS DEFINITELY LOOKING OUT FOR THEM."
The Clarks both suffered from scrapes and bruises; Morris injured his elbow. But all in all, they're in great shape and say when the weather warms up they will go back to the cabin.
×
Most recent Utah stories