Estimated read time: 2-3 minutes
This archived news story is available only for your personal, non-commercial use. Information in the story may be outdated or superseded by additional information. Reading or replaying the story in its archived form does not constitute a republication of the story.
Debbie Dujanovic reporting An 11-year old Minnesota girls missing since Tuesday has been found safe and her alleged abductor arrested outside of Heber City.
Police say that Antonio Andrade was previously a resident of Provo and was probably returning there at the time of his arrest.
Utah Highway Patrol Trooper Randall Ritchie was thinking about young Cindy Jeannette Bruno and what route her abductor might take, when he noticed them drive by on Highway 40 around 9:30 last night.
"I had started wondering right about the time I saw a green mini-van go by," Sgt. Richie says.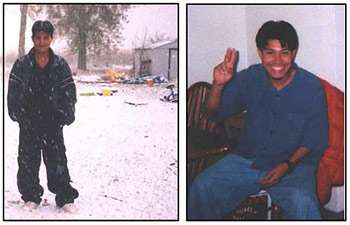 Ritchie then radioed ahead to other troopers in Heber asking them to set up a road block. Spikes were laid down to slow the van, but they weren't needed.
"Once I turned on the lights they pulled right over," Sgt. Ritchie says.
Richey told another tv station that he didn't immediately recognize the victim because she appeared to be older -- age 15 or 16.
"I was unsure whether she was the girl we were looking for, or another suspect," Richey said Thursday morning. The girl was placed in handcuffs until her identity was confirmed.
Andrade allegedly took the girl from her apartment in Minnesota Tuesday night and began driving. He mother reported her missing Wednesday morning, and at that time a nationwide Amber alert was issued.
Ritchie says that the girl showed no fear of her abductor and neither one showed any sign that they were being sought by police.
"He didn't seem to realize that-- being a nice guy, I guess," says Sgt. Ritchie.
Andrade is currently being held here in the Wasatch County jail. The case is now being handed over to federal officials.
Doug McCleve, Utah Highway Patrol spokesman, said he had heard indirectly that Andrade was claiming that Cindy's mother knew the girl was with him. He said officers were treating the case as a kidnapping.
Cindy Bruno has been taken to a local hospital for a check up . We aren't sure yet when she will be reunited with her family.
(The Associated Press contributed to this story.)
×
Most recent Utah stories