Estimated read time: 2-3 minutes
This archived news story is available only for your personal, non-commercial use. Information in the story may be outdated or superseded by additional information. Reading or replaying the story in its archived form does not constitute a republication of the story.
Sandra Yi reporting The man accused of kidnapping an 11-year-old Minnesota girl appeared in federal court here in Utah today. Antonio Andrade was arrested last night after caught traveling with 11-year old Cindy Bruno.
Federal prosecutors still need more answers before filing any charges. Antonio Andrade left the Wasatch County Sheriff's Office this morning and is in F-B-I custody.
Earlier today, he appeared in federal court wearing handcuffs. Through an interpreter, Andrade told the judge he had a job in Minnesota and about 350 dollars to his name. Andrade was appointed a lawyer and now faces federal charges.
Paul Warner/U.S. Attorney for Utah: "WE'RE TRYING TO FIGURE OUT WHAT REALLY HAPPENED. WHO DID WHAT, WHEN, WHERE AND SO FORTH."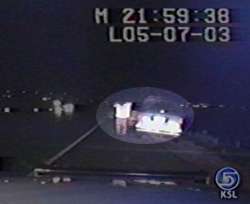 Andrade was arrested outside Heber City last night, only 90 minutes after a state-wide Amber alert. He was traveling with 11-year old Cindy Bruno.
A quick-thinking highway patrol sergeant saw their van on Highway 40, just as he was calculating the drive time from Minnesota to Utah.
Sgt. Randy Richie/Utah Highway Patrol: "HE DIDN'T REALLY SEEM TO REALIZE HOW BIG A DEAL IT WAS AND THAT HE WAS IN THAT MUCH TROUBLE."
Cindy's disappearance yesterday morning prompted an intensive search for the girl and a multi-state alert. Utah law enforcement received word the pair may be heading to Utah because Andrade has a Utah drivers license and lived in Provo two years ago.
Authorities say Andrade briefly lived with the Bruno family. They are trying to figure out if the girl left willingly. Authorities found a note, that when translated from Spanish, read 'don't look for me'. Federal prosecutors say that could determine if Andrade will face federal kidnapping charges.
Paul Warner/U.S. Attorney for Utah: "UNDER FEDERAL LAW, IF SHE WENT WITH HIM WILLINGLY, IT MAY NOT BE A FEDERAL KIDNAPPING OFFENSE."
Andrade is in custody of the U.S. marshals. An extradition hearing is scheduled for next week.
As for Cindy Bruno, she is in foster care. The Department of Child and Family Services is working to get her home as soon as possible.
×
Most recent Utah stories