Estimated read time: 3-4 minutes
This archived news story is available only for your personal, non-commercial use. Information in the story may be outdated or superseded by additional information. Reading or replaying the story in its archived form does not constitute a republication of the story.
John Hollenhorst reporting Why would thousands of people regularly travel long distances, into America's harshest desert, to see a little old lady? If you have to ask, then you don't know the amazing story of Marta Becket.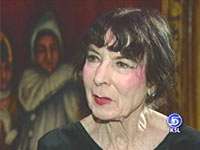 To some, she's an eccentric. Others say she's an inspiration, a monument of individuality. Marta Becket went a long way from her birthplace in Manhattan, to find herself in the desert near Death Valley, California.
Technically, it's not a ghost town. Three people live here. And a few birds.
To all appearances, it's a place civilization gave up on long ago. But, Death Valley Junction does have a theater.
The Amargosa Opera House.
And as night falls it becomes an isolated oasis of culture, that draws a crowd two nights a week.
TOM WILLET/AMARGOSA OPERA HOUSE: "OK, FOR THOSE OF YOU WHO NEED TO USE THE OUTHOUSE, IT'S FIVE MILES DOWN THE ROAD."
The curtains open, and you enter the unique world of Marta Becket.
MARTA SINGS: "COME JOIN THE BIG PARADE, COME TO THE MASQUERADE."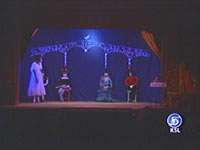 It may be irrelevant to ask if a 78-year-old singer and, yes... ballet dancer... is good or bad. She holds her audience in a spell. And to understand why, you have to know the back-story, how she wound up in Death Valley Junction, and turned a ghost-town into a mecca.
MARTA BECKET/DEATH VALLEY JUNCTION: "I'VE BUILT MY OWN AUDIENCE OUT OF NOTHING. I'VE MADE AN OLD BUILDING INTO SOMETHING."
She was born to dance in a dancer's mecca. New York City. She danced ballet at Radio City. Musical theater on Broadway. But she burned out on the crowds, the critics, the hassles, the rejections and most of all, on having to dance for someone else, interpreting their artistic vision.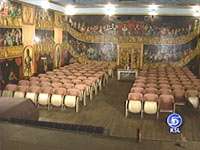 MARTA BECKET: "SO IT TOOK ME 10 YEARS OF BEING ON BROADWAY TO DECIDE, WHEN I WAS 29, THAT I WAS GOING TO STRIKE OUT ON MY OWN. AND, IF IT WAS GOOD, PEOPLE WILL COME. IF IT ISN'T, I'LL DO IT ANYWAY."
Eventually her quest led here. A flat tire landed her in Death Valley Junction. She looked around and found buildings abandoned by a mining company, including an old theater.
MARTA BECKET: "I JUST WANTED A PLACE WHERE I COULD DO MY THING. AND THIS EMPTY THEATER JUST KIND OF OFFERED ITSELF TO ME. AND I OFFERED MYSELF TO IT."
She began putting on shows, singing & dancing. She writes the songs and dialogue, composes the music, designs the costumes and scenery. Long ago, she even painted a remarkable audience on the walls, as she explained to KSL 25 years ago. Way back in 1978.
MARTA BECKET/1978: "MOST OF THE TIME IN THE BEGINNING WHEN WE WERE HERE, WE HAD NO AUDIENCES. I PAINTED MY OWN AUDIENCE."
Now, she's been at it for 35 years, still doing 55 shows a year, usually to a full house of 114 people.
They gawk with astonishment at her paintings. They gush over a woman whose life story is unlikely to be duplicated by anyone else.
SHERRY MINOR/MANHATTAN BEACH CALIF: "SHE'S SO COMMITTED AND HER ART IS SO BEAUTIFUL...SHE'S JUST A REMARKABLE PERSON."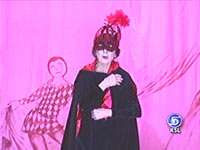 JOHN HOLLENHORST REPORTING: "SHE'S FREQUENTLY DESCRIBED AS AN ECCENTRIC. BUT SHE ONCE SAID, 'IS IT ECCENTRIC TO LOVE YOUR WORK SO MUCH THAT YOU'D GO ANYWHERE IN THE WORLD TO DO IT?''
"JOHN MINOR/MANHATTAN BEACH, CALIF: "I DON'T UNDERSTAND IT. BUT IT'S INTERESTING. AND I ADMIRE HER INDIVIDUALITY IN DOING IT."
"She's like a flower in the desert," one fan told us. "Fragile, yet beautiful."
And even at 78, she never thinks about quitting.
MARTA BECKET: "I'LL PROBABLY JUST FADE AWAY IN FRONT OF THEM. BUT I COULD NEVER TURN MY BACK ON WHAT IT TOOK ME OVER HALF MY LIFE TO CREATE."
In her current show, she plays 8 different characters, with 16 costume changes. And the night we attended she sang with a bad cold and danced on a very bad knee. Marta Becket. A true original. Still a trouper.
×
Most recent Utah stories