Estimated read time: 5-6 minutes
This archived news story is available only for your personal, non-commercial use. Information in the story may be outdated or superseded by additional information. Reading or replaying the story in its archived form does not constitute a republication of the story.
SALT LAKE CITY (AP) -- Police on Monday detained a Utah woman accused of abducting her 19-month-old granddaughter and taking her to Idaho. Divers searched the Snake River for the child after the woman, described as a paranoid schizophrenic, told authorities she lost control of the girl while dangling her feet in the water.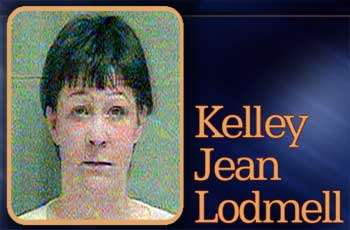 Kelley Jean Lodmell, 38, ran to a nearby power plant and told an employee that the child was lost in the river at Idaho Falls, Idaho. Twelve dive teams were searching the murky river while police dogs and officers scoured a nearby park for the girl, Acacia Patience Bishop.
Idaho Falls Police Sgt. Steve Hunt said the only evidence of the girl found so far was a pair of baby shoes and a doll left on the river bank.
"We can't say positively that the baby went into the water, though that's what the grandma said originally," Hunt said. "But there's information that leads us to believe the original story may not be accurate." He refused to elaborate.
Lodmell was emotional but cooperating with police, he said.
The child's abduction Sunday evening set off a national Amber Alert early Monday.
Lodmell and the child were last seen at the home of the child's great-grandparents in Salt Lake County at 6 p.m. Sunday. Lodmell, described by authorities and family members as a transient and paranoid schizophrenic, was found at Idaho Falls.
The girl was last seen Sunday night when Lodmell checked into an Idaho Falls hotel along the Snake River. The clerk said he noticed nothing unusual about the pair, Salt Lake County Sheriff Aaron Kennard said.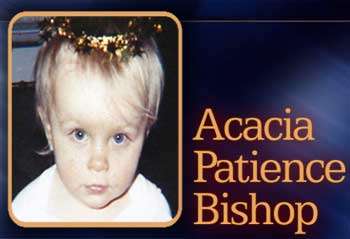 Authorities are hoping Lodmell's account of losing the baby in the Snake River was false and that the child might be found safe somewhere else, Salt Lake County Sheriff's Department spokeswoman Peggy Faulkner said.
Lodmell was cooperating with investigators but was frequently changing her story, Faulkner said.
Ken Lawson, dispatch supervisor with Idaho Falls Power, said the woman ran into the hydropower plant just after noon on Monday.
"She ran in here soaking wet, and said that her baby had fallen in the water," Lawson said. "She said her baby was in the river, drowning."
The operator on duty immediately shut down the plant, Lawson said, so that the river water -- and the child -- would not be sucked into the plant's turbines.
"After that the operator couldn't get any more information from her -- she was kind of like in shock," Lawson said. "The police talked to her in a separate room, and she left with handcuffs on."
The nationwide Amber Alert was activated at 4:40 a.m. Monday.
The child, who is 2-feet, 6-inches tall and 35 pounds, was last wearing a pink sundress with white sunflowers. She has reddish-blonde hair and blue eyes. The child walks, says one-syllable words and responds to her name, said the child's mother, Casey Lodmell.
Her mother had stopped taking medication for her illness, she said.
Last year, Kelley Lodmell took Acacia for a half-hour before relatives found them, Faulkner said. Police were not called until after the two were located, and no charges were pressed.
Kelley Lodmell had wanted the girl "for herself," Casey Lodmell said of the incident a year ago. Since that time, Acacia has spent little time with her grandmother.
Acacia was being watched Sunday evening by her great-grandparents in Salt Lake County while her parents attended a wedding rehearsal dinner. Kelley Lodmell, who had stopped by the home, and the girl disappeared as the great-grandmother briefly turned her attention away, Faulkner said.
"It was like five seconds, they were gone," said Linda Lodmell, Kelley's mother and Acacia's great-grandmother.
Kelley Lodmell pleaded guilty to a 1999 charge of aggravated assault of a police officer. She has also been charged with possession of marijuana and drunken driving, Faulkner said.
Monday was the fourth time Utah officials have used the public alert system for a missing child. The first was on June 5, when Elizabeth Smart was abducted from her Salt Lake City bedroom. She was found walking in Sandy on March 12 with her two alleged abductors.
The second was Jan. 29, when 3-month-old Nicholas Tripplett was taken from the ZCMI mall food court. He was found the next day, five hours after the alert went out. Charges against two people in that case were later dropped.
An alert was issued May 7 for 11-year-old Cindy Jeannette Bruno, from St. Cloud, Minn. A Utah Highway Patrol trooper stopped the suspect when he recognized the man's van from the alert's description. Antonio P. Andrade, 21, is charged with the girl's abduction.
Amber Alerts are named after Amber Hagerman, a 9-year-old girl abducted and murdered in Texas in 1996. Legislation creating a national alert system was signed last month.
(Copyright 2003 by The Associated Press. All Rights Reserved.)
---
Text Message of Utah Public Safety Dept Amber Alert:
A child abduction (AMBER) alert has been issued by the Utah Deptartment of Public Safety. The child's name is Acacia Patience Bishop, age 19 months. She was born Oct. 29, 2001. She has light brown hair, is approximately 30 inches in height, and weighs 35 lbs. She is wearing a pink sundress with white sunflowers. Her last known location was 4555 South 785 East. She was taken Sunday, May 25 at 6:00 PM.
The suspect's name is Kelley Jean Lodmell. She is age 38, born November 29, 1964. She is a white female with brown hair, 5 feet 2 inches tall and about 135 lbs. She was wearing a black t-shirt, blue jeans, and new tennis shoes.
The vehicle is a 1985 Oldsmobile Regency. It is light gray with a dark gray vinyl top. Utah license plate: 988 LGK expires 12/03.
Please contact Sheriff's office at 743-7000 with any information.
×
Most recent Utah stories