Estimated read time: 2-3 minutes
This archived news story is available only for your personal, non-commercial use. Information in the story may be outdated or superseded by additional information. Reading or replaying the story in its archived form does not constitute a republication of the story.
John Hollenhorst ReportingThis has been a deadly weekend for five snowmobilers in Utah and nearby states.
Two snowmobilers died in Utah avalanches, another slide in Idaho killed a Utah man. Two more snowmobilers were swept away by an avalanche in Montana.
In the last few days, at least 30 avalanches in Utah have been triggered by human activity, including a number of slides started by snowmobilers. A few years ago, that was almost unheard of. Now it's a sad and very dangerous trend.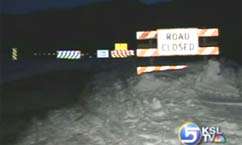 A slide in the mountains near Heber claimed the life of 16-year-old Zachary Holmes of Farr West. He's one of five snowmobilers killed by avalanches this weekend, two in Utah, in spite of repeated warnings from avalanche forecasters.
Drew Hardesty, Utah Avalanche Center: "Even though those people know it's dangerous out there, it's this feeling of 'It's not going to happen to me. It's always the other guy.'"
Avalanches used to kill skiers mostly, especially those who ventured into the back-country. But more and more, it's snowmobilers and snowboarders who die.
One particular snowboarder had a death-defying experience near Brighton last week, disappearing in a furious cloud of snow. Somehow he emerged and lived to tell about it.
The power of sliding snow, hurtling along at Daytona racetrack speeds, is something back-country skiers were forced to learn about years ago.
Drew Hardesty: "Now it seems as though people getting into the back-country on snowboards and snowmobiles are just starting to hit that learning curve as well."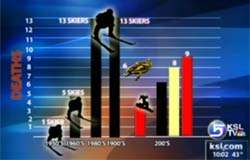 There's a death curve, too. Utah avalanches killed 88 people in the last half-century, mostly rising numbers of skiers until a peak in the '80s and '90s. The first snowmobilers and snowboarders were killed in the mid-'90s. While skier deaths are declining, the death curve for snowmobilers and boarders is rising.
Drew Hardesty: "We're just seeing them triple and quadruple their numbers out there. And because the machines are so powerful, they're able to get to so many different areas out there."
One lesson this weekend is that even experienced people can get into deep trouble.
Drew Hardesty, Utah Avalanche Center: "We have met the enemy, and the enemy is us. Even though you may have all the preparations and all the rescue equipment gear, it's just that self-discipline to avoid those steep, avalanche-prone slopes."
That means avoid slopes steeper than 35 degrees. And how many times has this been said? "Check the avalanche forecast before you go out." That might persuade you to avoid unsafe areas.
And if you think it won't happen to you, this deadly weekend might change your mind.
×
Related links
Most recent Utah stories